Robert Kubica will not return to Formula 1, says Ferrari team boss

By Andrew Benson
Chief F1 writer
Last updated on .From the section Formula 1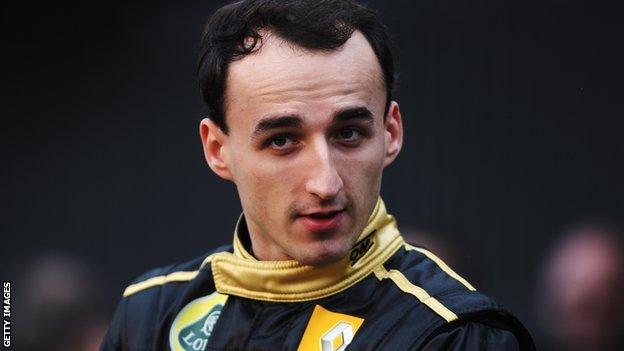 Ferrari believe Polish driver Robert Kubica, 28, will never return to Formula 1 following the injuries he suffered in a rally crash in 2011.
The Italian team had been tracking his progress with the intention of hiring him should he make a full recovery.
Boss Stefano Domenicali said: "We were keeping an eye on him. Unfortunately I don't think he will be back.
"With his physical problem, he would struggle in certain situations which require reactivity. It's a shame."
Kubica has said he could drive an F1 car on certain circuits but not all, because of the limited movement in his right arm, which was partially severed in the accident in February 2011.
The Pole is competing in rallying this season and has insisted he still believes he can make a return to F1, where he was one of the most highly rated drivers.
Domenicali made his remarks in an interview published on the Ferrari website, in which he also addressed the team's under-performance this season.
Their lead driver Fernando Alonso was in the title battle until mid-season, but Ferrari have been left behind by Red Bull since the end of August and Sebastian Vettel is on the verge of clinching his fourth world title.
The German needs only a fifth place in India this weekend to be absolutely sure of the championship, regardless of Alonso's result, and will win it wherever he finishes if the Spaniard does not score at least 16 more points than him.
Alonso has now said he is concentrating on retaining second place - where he is 30 points ahead of Lotus's Kimi Raikkonen.
"If in the past four years, we have come close to the title twice, it is partly down to him [Alonso]," said Domenicali. "Unfortunately, we have not been capable of giving him a car that matches his talent."
Domenicali said he did not know why Red Bull had been able to produce such a dominant car.
"Everyone is trying to work that out," he said. "But it's pointless make accusations if there is no proof. [Governing body] the FIA can check the control unit, and if they find nothing than Red Bull is obviously doing a good job," he conceded.
Domenicali admitted that Alonso had "crossed the line" in his criticisms of the team after the Hungarian Grand Prix, following which he was publicly rebuked by Ferrari president Luca Di Montezemolo.
He also rejected claims that Alonso's team-mate Felipe Massa, who has been dropped in favour of Kimi Raikkonen for next season, was never the same driver following the crash at the 2009 Hungarian Grand Prix in which he suffered a fractured skull.
"From a medical point of view, there is no proof that the accident left any permanent damage, such as problems with his sight or reflexes," explained Domenicali.
"And then there's the gentility, which would demand that we give a driver who hasn't had much luck the chance to show he deserves to stay with us.
"If Felipe was unable to deliver the performance we hoped for, it was mainly down to a hyper-sensitivity to a car that was too nervous at the rear, but in 2008, he almost took the title and I consider him as a world champion.
"We took Raikkonen because we wanted more. When we replaced him with Alonso, he was not happy and so he returns with a great desire to do well."