Sebastian Vettel heads Mark Webber in final Indian GP practice

By Andrew Benson
Chief F1 writer at the Buddh International Circuit
Last updated on .From the section Formula 1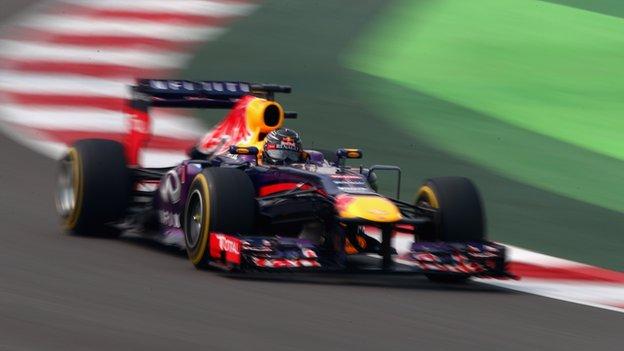 Sebastian Vettel headed team-mate Mark Webber in final practice as Red Bull continued to dominate the Indian Grand Prix weekend.
The two men have been first and second in all three practice sessions and on pure pace Red Bull appear to be on a separate level from the rest.
Ferrari's Fernando Alonso was third ahead of Sauber's Nico Hulkenberg as the Lotus and Mercedes cars struggled.
Lotus's Romain Grosjean was fifth and Mercedes' Lewis Hamilton 10th.
Ferrari's Felipe Massa was sixth, ahead of Force India's Paul Di Resta, Mercedes driver Nico Rosberg and McLaren's Jenson Button.
The start of the session was delayed by 20 minutes because of poor visibility caused by smog, which meant the medical helicopter was not able to take off.
When it did get going there was action and intrigue from the beginning.
Max Chilton had a spin in the Marussia, Esteban Gutierrez launched his Sauber into the air over a kerb and a number of other drivers ran wide as they explored the limits on the demanding Buddh International track.
Although Red Bull look untouchable, there is intrigue as to whether the fragility of one of the two tyre choices may introduce uncertainty over strategy.
The 'soft' tyre is lasting for very few laps, and Red Bull are struggling more than most.
Very quickly, the front soft tyres are suffering from 'graining', where the surface tears. And the rears are suffering from blistering, where it bubbles from overheating.
That has led to speculation that some of the teams who make it into the top 10 shoot-out in qualifying may choose to qualify on the harder 'medium' tyre.
Vettel in particular looks quick enough to make that work as a strategy - he was 0.560 seconds ahead of Webber and 0.773secs clear of Alonso.
The world champion is about 1.5 seconds quicker on the soft tyre compared to the medium over one lap, so would probably be able to qualify on the third row if he did choose to use the medium.
From there, he would be close enough to the front to pick off the cars ahead as they struggled with the soft tyres and then drive off into the distance as they stopped to change tyres.
Any driver doing this would then have to choose a suitable point in the race to run the soft tyre.
Vettel did this strategy in China earlier this year and finished fourth after qualifying ninth, but his race there was compromised by being held up by a slower car in the early laps when he needed to be running as fast as possible.
A slightly higher qualifying position here might avoid that happening.
However, Vettel did a race-simulation run on the 'soft' tyre after his quick lap and managed 10 laps at a reasonable pace, while on Friday he had only done three before the tyres were destroyed.
That might be enough to convince Red Bull to go for the best possible grid position, as most others will almost certainly do.
Red Bull team principal Christian Horner ducked questions on whether the team were contemplating qualifying on the mediums, but said: "It's going to be fascinating seeing the different strategies people choose."