Gary Anderson: Sebastian Vettel exceptional in India to clinch title

By Gary Anderson
BBC F1 technical analyst
Last updated on .From the section Formula 1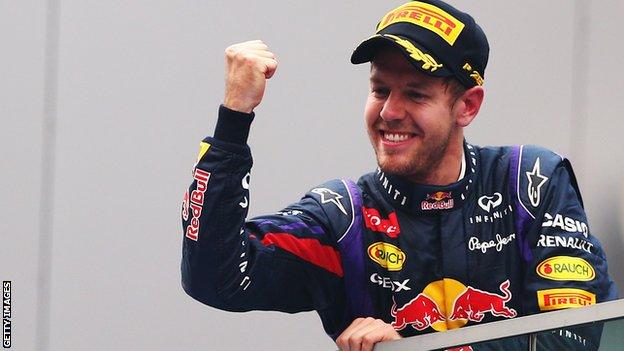 Anybody who thinks Sebastian Vettel does not deserve his success is wrong. His title-clinching victory in the Indian Grand Prix was a perfect example of that.
To come from down in 17th in the way he did after his pit stop was exceptional.
Vettel always intended to make an early pit stop - doing so on lap two after starting on soft tyres.
His main rival Fernando Alonso planned to run a longer first stint - but also had to pit on lap two to replace his front wing, damaged when Vettel's team-mate Mark Webber hit him on he first lap.
Alonso rejoined in 20th, with damage on a car that was already significantly slower than the Red Bull. But he was only three places behind Vettel. Yet by lap 14, Vettel was third and Alonso was 15th.
What it proves is this: Whether he is running from the back or the front, Vettel can pull victories off. Yes, you need a good car to do that, and the Red Bull is exceptional, but you have to have a good driver in it as well.
Vettel brings back results every weekend. You can't knock him for that.
One of the things that makes the Red Bull stand out is the way it uses the exhaust gases for aerodynamic effect, providing extra downforce at the rear for use during and out of corners.
But Vettel uses that quality better than anyone else in the way he drives.
The Red Bull almost certainly has a more effective use of exhaust gases than any other car, but a driver has to use the tools available to him. Vettel uses all of them; some other drivers don't.
That is probably a lot to do with his youth, that he will adapt his driving to the way the car wants to be driven, whereas some drivers are too stuck in their ways.
And it will be partly to do with the fact that he has total trust in Red Bull's design chief Adrian Newey.
Vettel spends a lot of time at the Red Bull factory. Newey will have shown him how the exhausts operate and the German will have gone out and tried to make that feature work for him.
The Red Bull is ideal for Vettel. Whenever a driver has a good run, it is because they are at one with the car. They are never fighting it.
It's not the same with Vettel's rivals. Their cars are not as good. The driver fights it, and it becomes messy; then their confidence dips as well.
The genius of Newey
Adrian Newey has won 10 drivers' and constructors' titles with three different teams, a unique achievement for an F1 designer.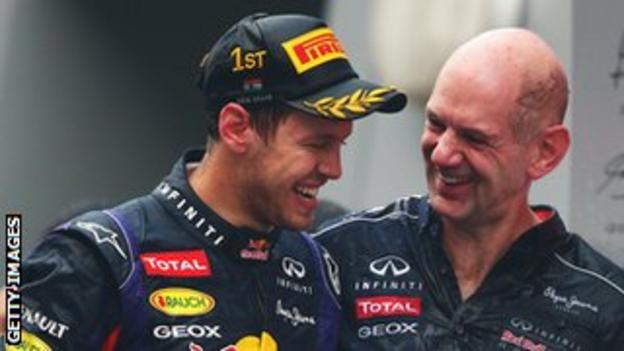 Newey's greatest quality is his vision, and it is demonstrated by the fact that he still uses a drawing board and pencil, while most F1 teams long ago switched to computers.
To do that, you have to know what you're trying to draw before you do it. By contrast, a computer-aided design (CAD) system allows you to do a lot more involved three-dimensional design.
Newey is not drawing his car from nothing. He's like an artist. He has a vision in his head and he paints it.
Once he has had that vision, he has faith in it and pursues it like a dog after a bone even if it proves tricky to realise at first.
Red Bull has been set up around him, which means they have to have faith he will do the right thing.
They push their aerodynamic package to the maximum and that means that there will be compromises on the mechanical side of the car to do with packaging.
But Red Bull have proved they can get around those and benefit from the inherent superior performance of the car that a no-compromise approach brings.
Alonso deserves better from Ferrari
Vettel's fourth title is tough for Fernando Alonso to take. He went to Ferrari as the great hero. Ferrari should be capable of doing the job and they have not provided him with the tools he needs.
Ironically, Ferrari and Alonso have been better with a bad car and next to no hope - as they were last year. When it is bad with some hope, as was the case this year for a while, they seem to trip over themselves.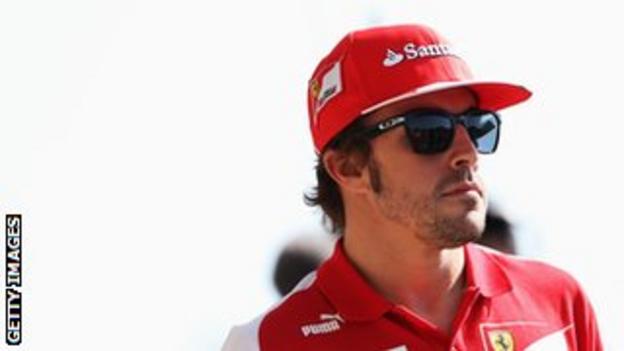 Ferrari have to give Alonso the car he deserves. He has his mind set now on the improved performance he expects from the team now new technical director James Allison has joined them from Lotus.
They have worked together before, at Renault. But if Alonso does not get a car to suit his talent next year, his days at Ferrari must be over, because I don't think he could accept that and continue to put up the fight he does.
If you were lining up drivers in terms of pure talent, Alonso, Vettel and Lewis Hamilton would be right up at the top, ahead of everyone else. I would love to see them going at it in equal cars. Let's hope that's the case next year.
More problems for Pirelli
India was another controversial weekend for Pirelli. The 'soft' tyre was blistering - bubbling through overheating - after just a couple of laps and Pirelli went as far as to put out safety advice on tyre duration before the race, which is not normal practice.
Pirelli have had a lot of problems this year, but to me they made the wrong choice of tyres to take to both Korea at the beginning of October - when they were heavily criticised by Alonso and Mark Webber - and India.
The 'soft' tyre in India was basically a qualifying tyre - useful for one lap and not much more. That's not what F1 needs.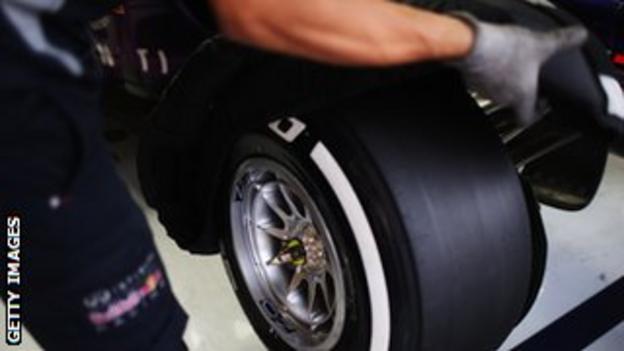 They should have brought the medium tyre and the hard tyre to India. Some people would have done one-stop strategies; some would not. But Pirelli would not have had the embarrassment they did in India.
The tyres do not need to be as much as a second a lap apart in pace as they were in India. Half-a-second is enough.
Pirelli are complaining about not having enough testing, but all they needed to do was bring a different tyre from their current range to India and everything would have been fine.
I believe Pirelli has gone too far in making the tyres softer again to try to provoke more pit stops. If there is only one pit stop sometimes, so be it.
I would rather watch a good, hard, race-long battle between two cars fighting for position than tyres dictating how the race unfolds.
Lotus prove Pirelli wrong
Pirelli said that they could not guarantee the safety of the medium tyre if teams did more than 35 laps on it. So it did not look great for them that two teams proved they knew more about the tyres than Pirelli did.
Romain Grosjean did 46 laps on the medium, his Lotus team-mate Kimi Raikkonen managed 51 and Force India's Adrian Sutil did 41. The only problem any of them had was that Raikkonen had to abandon his attempt to one-stop with two laps to go when his tyres ran out of grip.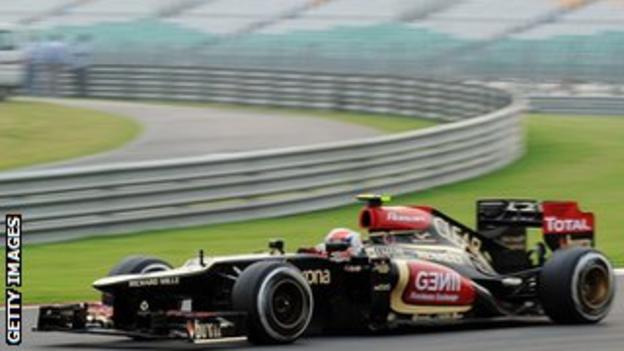 It was an impressive race by Lotus. It surprised me because I, too, was expecting the tyres to deteriorate after 35 laps, but they went at least 10 laps further than that.
With Raikkonen, Lotus went a bit too far, but it was a great effort. Grosjean, interestingly, was still setting quick laps right to the chequered flag on really old tyres.
Grosjean went 30% further on the tyres than Pirelli thought was possible, and that suggests Pirelli need to have a bit of a think about where they are with the tyres and what they are trying to achieve.
They are in F1 as a marketing exercise. Right now, it doesn't look like a great marketing exercise for a tyre company to me.
F1 might become a bit more boring if more races were one-stop, but it would be less focused on the tyres and that would be good for everybody.
The sport needs to look at itself, too. F1 has used tyres to try to make races more competitive, solving a problem created by the aerodynamic package of the cars. But it's creating an embarrassing situation for a major tyre company.
It makes no sense. The sport should fix the problem, not try to bandage it with something else.
Gary Anderson, the former technical director of the Jordan, Stewart and Jaguar teams, was talking to BBC Sport's Andrew Benson