Sebastian Vettel will only get stronger - David Coulthard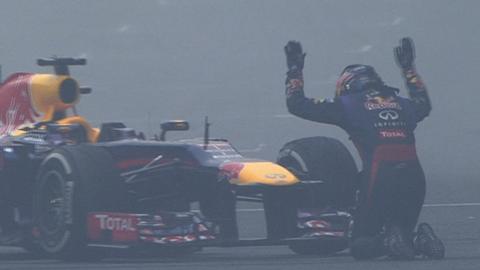 Sebastian Vettel won his fourth consecutive world title with the strongest season of his career so far.
The German has been almost flawless in 2013. The worrying thing for Vettel's rivals is that he is only going to get stronger. Not necessarily quicker, but better in the way he understands and works with his team.
He is still only 26, and you can see his relative youth in his physique. He is growing into himself physically. He looks stronger, whereas before he was a bit 'skater boy'. That takes nothing away from his undoubted talent.
So far, Vettel's career has only been about going up. He hasn't had the peaks and then troughs that Fernando Alonso and Lewis Hamilton have suffered in terms of the performance of their equipment.
That will inevitably happen for Vettel, too. It's a fact of life, never mind sport, and when it does we will get a fuller picture of who he is. But right now his personality is summed up by his behaviour on the podium and the time he gave to BBC F1's pit-lane reporter Lee McKenzie in his interview after the race.
Vettel knows that doing doughnuts on the pit straight after the race, as he did as he celebrated victory, risks punishment. And he duly got a reprimand and a 25,000 euro (£21,000) fine.
In another era of F1 he might even have had points taken away from him. But he is prepared to risk that - even if admittedly he has plenty in hand - and in doing so he has given iconic shots of what it's like to win a world championship.
Some people will say Vettel's success is all down to Adrian Newey, Red Bull's brilliant design chief. But that's nonsense.
There is no question that Alonso or Hamilton would be able to get a lot out of that car as well.
But Mark Webber is not a bad driver - he is a very good driver - and for whatever reason he is a bit behind Vettel.
For packaging reasons in the car, which disadvantage Webber because he is a much bigger guy, or because of something else, he has not been able to get the best out of the Pirelli tyres.
In the same way, Michael Schumacher always got just that bit more out of his cars than his team-mates.
There is no shame in being just a wee bit slower than one of the greats of the sport. It still makes Webber a world-class driver.
It's like Usain Bolt. The guys who keep getting beaten by him are not idiots. They're exceptional athletes - they're just not quite as good at the moment. But that will change, in the same way this will change.
Newey has had his fingerprints on too many winning designs to not be recognised as one of the greats of the sport.
He has not always got it right. Some of his cars have been quite brave and haven't worked out. I should know; I drove some of them.
But in terms of the black art of understanding aerodynamics, he has been exceptional. Newey and his team of people at Red Bull have really performed over the last few years.
He is not only good at leading the design, he is very good at managing, recognising people who have strengths in areas where he does not and empowering them.
Vettel clinched his title with a great drive. I was surprised he came in on lap two, but on reflection it's a smart thing to do if you're confident you've got the speed, which Vettel and Red Bull obviously have.
That's because you've got through the first lap, let everyone get strung out, but people are still battling and might hold each other up. He simply had to go and pick them off.
It was brave, but he did exactly what he had to do and his rapid progress through the field squeezed everyone out of the game because they had lost their pit stop in hand.
It was tough for Webber to retire with an alternator failure but he'd lost the race long before that.
There will be conspiracy theories, but it just doesn't happen like that in a race team. No-one deliberately fits a dodgy part. It's just the racing gods, and the exceptional guys more often than not seem to have the gods on their side.
I have to save some words for Alonso, who has again been Vettel's closest rival this season despite having a car that is not only not as good as a Red Bull, but not even the second fastest either.
Alonso's performances are consistently exceptional, so it was a shame that the race in which his title hopes were finally, mathematically, over was a bit flat by his lofty standards.
He had to change his front wing after he was hit by Webber on the exit of the first corner, and after that the Ferrari's steering had some issues as well.
He had to take some risks - as he always does. Usually they pay off; this time they did not. That's inevitably going to happen from time to time if you can't qualify at the front.
For me, Alonso, Hamilton and Vettel are the stand-out drivers in F1. Nico Rosberg, Kimi Raikkonen, Webber and a couple of others are right up there just behind them.
That's three times in the past four years that Alonso has fought with Vettel for the title only to come up short for various reasons, none of them to do with his driving.
It can't be easy to keep your hunger and motivation in those circumstances.
The frustration has clearly got to him at various times this year - and he got a private and public dressing down from the Ferrari president for some of his comments.
Personally, I don't think it should be an issue that he has occasionally got frustrated and said something, any more than it should be an issue that the team have a word with him in private.
They don't want a wallflower, someone to say "yes sir, no sir". Ferrari employ Alonso to push the team and everyone around him.
He has the respect of his paddock and he should have the respect of his team.
Alonso will go away at the end of the season, they'll give him the time he needs to recharge his batteries and he will know within a few tests with next year's car whether it looks like he has a package to win races.
And if he does, that's exactly what he will do.