Sebastian Vettel says he feels 'hurt' after being booed by fans

By Andrew Benson
Chief F1 writer
Last updated on .From the section Formula 1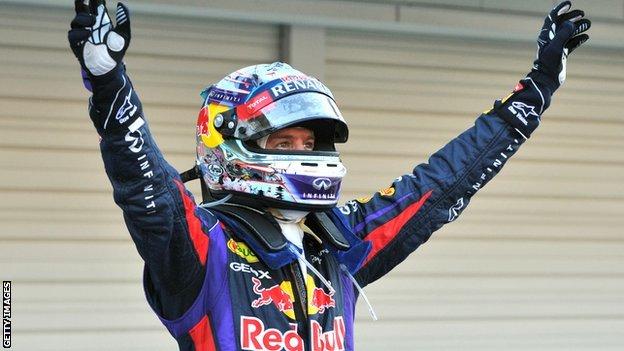 Sebastian Vettel says he has been hurt by the boos he has received on the podium at several races this season.
"It's very difficult for me personally, to receive boos, even though you haven't done anything wrong," he said.
"At the time it hurts not to get the reception you expect but I think I'm clever enough to understand why they do it. I'm not blaming them."
He added: "To overcome it, to give the right answer on the track and finally get the acceptance we're all looking for as racing drivers… it make me very proud to join people like (Alain) Prost, (Juan Manuel) Fangio and Michael (Schumacher as a four-time world champion)".
Vettel has won 10 of the 16 races so far this season, including the last six in a row, after three world titles in a dominant car, albeit only one of them won in dominant fashion until this year.
He said he believed the boos were coming from people who did not want to see one team and driver winning so much.
"Maybe if I was a fan of McLaren, Ferrari, whatever, one of the traditional teams, I wouldn't like it if the same kind of guys, same team wins again and again," he said.
"The most important thing for me is to get the respect from people that I know and people that I race against.
"I feel respected amongst the drivers. Sure you have to fight to get that respect when you come in but I'm not blaming the fans. It's very difficult for the fans, to be honest, to understand what's going on behind the scenes because they get a little of an idea of who we are but it's impossible for everyone to introduce yourself and to explain what kind of guy you are."
Red Bull design chief Adrian Newey said he felt the reasons for the booing were more complex than that, saying that Vettel's index-finger victory salute and his decision to ignore orders not to pass team-mate Mark Webber for victory in Malaysia this year were also responsible.
Newey said: "This booing, you can see how it's happened. First of all, it's that jealousy of success people have.
"It's perhaps been wound up a little bit by one or two other drivers, let's say, and yes perhaps annoying habits, gesticulations, and perhaps a little bit of the Malaysia thing."
Newey admitted Vettel had made mistakes in Malaysia in terms of both ignoring the team orders in the first place and then in his wavering story afterwards as he attempted to explain why he did it.
"Afterwards, he kind of knew he shouldn't have done it, and perhaps he got himself a bit tongue-tied in his excuses afterwards," Newey said.
"But he's a young lad, the bottom line is that in the race, there are all those reasons, the adrenalin, etc, and after the race we all learn from our mistakes, and that for me is one of the great things about Sebastian, in that like all of us he makes mistakes but he always learns from it.
"I'm not saying he'll never disobey team orders again but he will have learnt how to handle things.
"He's very humble. The success and fame he has achieved over the last four or five years, many people that would have gone to their head and it hasn't with Sebastian. He always remains totally feet on the ground, a very private person, a very bright lad."