Sebastian Vettel benefited from mid-season tyre rules change

By Andrew Benson
Chief F1 writer in Greater Noida
Last updated on .From the section Formula 1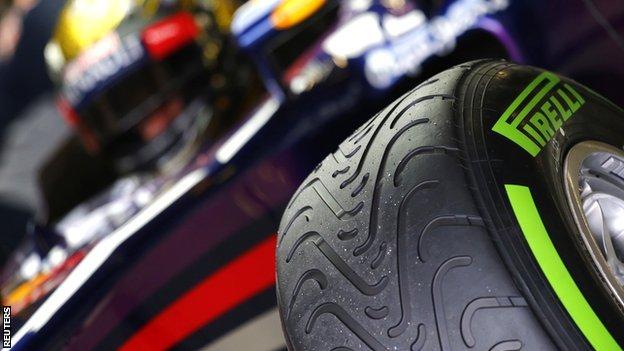 Red Bull say that changing the design of Formula 1's tyres mid-season was key to Sebastian Vettel's title win.
Ferrari's Fernando Alonso was only 21 points behind the German after eight races this season.
But the tyres were changed after failures at the British Grand Prix in June, and Vettel has won seven out of eight races since.
"Going back to 2012 tyres for sure helped us," Red Bull designer Adrian Newey said.
"Our car generally gets quite a bit of its benefit in the high-speed corners and the '13 tyres were much more load-sensitive.
"It was much easier to damage them if you put too much load into them, so we couldn't really use that high-speed benefit on the '13 tyres."
Alonso had already identified the decision to revert to the more durable 2012 tyres as a reason for Ferrari's loss of form.
Pirelli changed the tyre design for 2013 but a series of failures in early-season races led to disquiet among teams and drivers, and a change was then forced on the sport by seven tyre failures during the British Grand Prix at the end of June, one of which cost Mercedes driver Lewis Hamilton a victory.
A change in materials was made for the subsequent German Grand Prix, before the entire construction of the tyre was changed for the next race in Hungary, with a reversion to the 2012 design.
Hamilton won in Hungary, but both he and Newey believe that was only because Vettel got stuck behind slower cars - including Jenson Button's McLaren.
Since then, Vettel has won six consecutive races and the German sealed his fourth championship in a row with victory in India on Sunday.
Newey said that Red Bull's domination during the second half of the season was also down to them improving their car - extra performance they were able to exploit because of the greater durability of the tyres.
"We made some decent steps," said Newey, Red Bull's chief technical officer. "We actually introduced quite a few parts to the car, some of them in Hungary.
"And really Hungary was one that got away for us in as much as I feel that was a weekend we didn't manage to deliver the full potential of the car, partly through set-up, although partly what ruined our race, of course, was Seb getting stuck behind Jenson.
"So that was a disappointment that perhaps masked where we'd got to in Hungary. In other words, we'd got further than it showed.
"But there was no single magic component or magic bullet to our upturn in performance.
"It was a number of components and we'd had a couple of races we probably should have done better at.
"Silverstone should have been an easy win [after Hamilton's retirement] but we had an input shaft failure [on the gearbox].
"A bit of it was nature of circuit as well.
"The circuits we had as we got into the second half of the season suited the car - in as much as we'd been competitive on the medium-downforce circuits such as Bahrain and Montreal earlier in the season, but we hadn't fully got on top of the high-downforce front-limited circuits, such as China and Barcelona in particular.
"So Spa and Monza suited us as being medium and low-downforce circuits. And then by the time we got to Singapore, we managed to get on top of the high-downforce areas we'd struggled with a bit earlier in the season."
Newey said Ferrari's early season form - and the run of eight pole positions in nine races achieved by Mercedes, from the third Grand Prix in China to the 11th in Belgium - encouraged Red Bull to push hard with their car.
That push went even as far as to reducing the effort Red Bull were putting into the 2014 car, which will need to take into account the new chassis and engine rules set to take effect.
"Ferrari started off well, but come mid-season Mercedes seemed to be making very good strides. You were kind of worrying that their development was going to overtake us and we could be on the back foot, so we kept pushing," said Newey, who has won 10 drivers' and 10 constructors' titles with three different teams, a unique feat in F1 history.
"Arguably with 20-20 hindsight you could say we pushed more than we needed to, because of course all the time we were pushing on the '13 car, we weren't working on the '14 car.
"Equally if we'd gone the other way and backed off too early, then we'd have felt pretty sick."