Ross Brawn to leave Mercedes at the end of the current F1 season

By Andrew Benson & Eddie Jordan
BBC F1
Last updated on .From the section Formula 1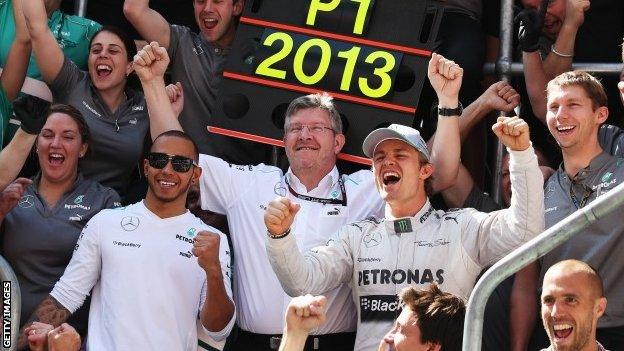 Ross Brawn will leave his position as Mercedes team principal at the end of the Formula 1 season.
Brawn and Mercedes have failed to reach an agreement on a role in which he would have been happy to stay at the team, sources close to Mercedes said.
Mercedes will now be run in tandem by their two executive directors, Toto Wolff and Paddy Lowe, along with non-executive chairman Niki Lauda.
Both Mercedes and Brawn refused to comment on the development.
Brawn's impending departure follows months of talks between Mercedes bosses and the man who masterminded Michael Schumacher's seven world titles at Benetton and Ferrari.
Brawn also headed Jenson Button's title-winning 2009 season, entering privately as Brawn GP following Honda's withdrawal from the sport. Mercedes eventually took over the team for 2010.
The German company had originally signed Lowe, who was formerly the technical director of McLaren, last winter with the intention of him replacing Brawn with immediate effect.
But plans then changed, with Mercedes saying they wanted a 'soft transition', that they would like Brawn to stay and that he was in control of his own destiny.
Lauda pushed for Brawn to remain at the team, but the stumbling block was over the level of authority he would have.
Brawn, 58, wanted to stay in overall charge, as he made clear at the Japanese Grand Prix earlier this month.
However, sources close to the team say that option was never open.
Mercedes believe a single team principal is an outdated concept given the complexities of modern F1. They were hoping to persuade Brawn to stay on in another role that did not involve the day-to-day running of the team.
Negotiations reached an impasse and Brawn decided he had no option but to leave.
Wolff, the executive director (business), will now run the political and financial sides of the team, while Lowe, the executive director (technical), will be in charge of the sporting and technical aspects. Wolff is also the director of Mercedes' motorsport operation.
Brawn's future is unclear. He has emphasised that he would not try to line up a new job elsewhere while still in his present role, but he is now free to find one if he wishes to continue working in F1.
He has been linked with roles running Honda's new F1 programme when the Japanese manufacturer returns to the sport in 2015 as engine partner to McLaren, as well as to a position with governing body the FIA.
FIA president Jean Todt used to work with Brawn at Ferrari, in roles very similar to those now to be occupied by Wolff and Lowe at Mercedes.
Brawn moving to Honda is considered unlikely by some insiders, who say he had grown frustrated with certain aspects of working with the company when he ran their F1 team in 2007-8, particularly dealing with Honda management and repeated trips to Japan.
Claims Brawn will move to McLaren, though, are incorrect, according to sources.