Sebastian Vettel will stay if Red Bull remain strong - Helmut Marko

By Andrew Benson
Chief F1 writer at Yas Marina, Abu Dhabi
Last updated on .From the section Formula 1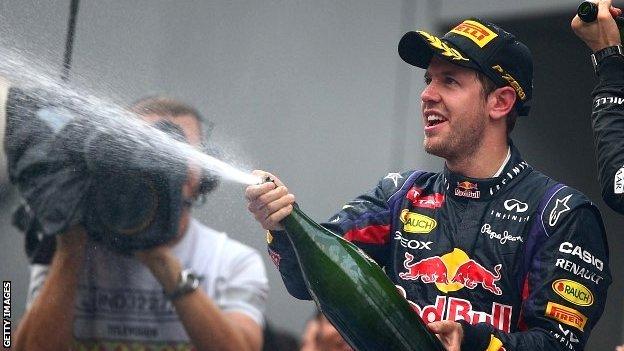 Sebastian Vettel will stay at Red Bull as long as the team can provide him with a winning car, according to their motorsport chief Helmut Marko.
"As long as we can provide him a competitive car for sure he will stay with us," Marko told BBC Sport.
"He knows it is not only the colour of the car, it is what is behind the car."
Marko said the stability of personnel at Red Bull was attractive to Vettel - the leading figures at the team have barely changed during the last few years, although they are losing head of aerodynamics Peter Prodromou and his second in command to McLaren before the 2015 season.
Marko, a former F1 driver, said: "We have had a fantastic team for the last couple of years, with nearly no movements, and that makes a big difference. I think [speculation about Vettel leaving] is just to destabilise us and they don't know the contract situation and so on."
Vettel paid tribute to the Red Bull team after he sealed the drivers' championship in India.
"The spirit in the team is fantastic and to go for numbers and statistics that we have done in the last four years is unbelievable," he said.
"I'm very thankful for what these guys are doing. If you look at their pay cheque at the end of the month, you'd be surprised if you could do the amount of hours that they do.
"I think it's better to work at McDonalds than to do what they do! It's 100% commitment.
"They love their job, they love the fact that they are working on a Formula 1 car and get to see technology like that."
Vettel is contracted to Red Bull to the end of 2015 and the team have a further one-year option.
Marko, who was talking in an exclusive interview for BBC 5 live F1, paid tribute to Vettel and said people should admire his success.
"It is well-earned. He is working hard for it," Marko said. "If you are winning too much you are not so popular and Red Bull is not a traditional car manufacturer, they say we are boring, but we can stand that. Winning is not quite nice, it is not boring."
Asked to sum up Vettel's qualities, Marko said: "First of all, he has enormous talent,. He has the speed, but on top of that he is working extremely hard. He is completely committed to the sport.
"He goes into all details, he wants to be informed about everything and he never says: 'OK, it's fine' if it's not 100% and that I think is a big difference to other drivers."
Vettel has had a tempestuous relationship with team-mate Mark Webber over the last five years but the Australian is moving to compete for Porsche in endurance racing next year.
Marko said he expected a more amiable relationship between Vettel and his new team-mate, Toro Rosso driver Daniel Ricciardo, another Australian.
"We hope or we are sure there will be a normal relationship," Marko said. "They are nearly the same age, there is nothing from the past.
"There is a good friendly relationship, and I think that will be good for the whole team that there is no tension any more and that the two drivers - at least as long as Sebastian as winning and Daniel is not beating him - I think their relationship will be very good."
Listen to the interview with Helmut Marko and a preview to the Abu Dhabi Grand Prix on BBC 5 live F1 at 21:00 GMT on Thursday