Lewis Hamilton says Mercedes will be strong without Ross Brawn

By Andrew Benson
Chief F1 writer at Yas Marina, Abu Dhabi
Last updated on .From the section Formula 1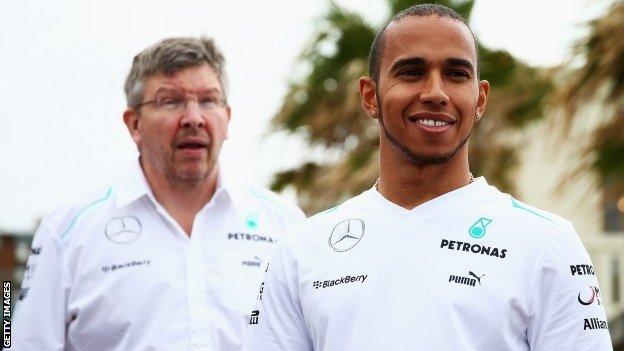 Lewis Hamilton believes Mercedes will still have a "fighting chance" of winning the world title despite team boss Ross Brawn's decision to quit.
Hamilton said: "Either way, we have a strong set of people in the team.
"Everyone will do the utmost to make sure whatever decision he makes we go into next year with a fighting chance to win the championship."
Brawn was instrumental in persuading Hamilton to move to Mercedes after six years with McLaren.
But Hamilton said: "When I made the decision it was based on a lot more things than just Ross. Ross wasn't the only thing I came here for.
"It was a bonus to have Ross here because of how much experience he had had and the success he had in his previous teams.
"At the time he was the one who came and showed me the progress the team were making and the direction they were going. But any boss would have done that. We've had a great working relationship."
Mercedes non-executive chairman Niki Lauda is still trying to persuade Brawn to stay on next season and Hamilton said he didn't "believe any decisions have really been made just yet".
But Brawn has decided to leave because the team were unable to agree to his wish to remain in charge.
Mercedes will now be run in tandem by their two executive directors, Toto Wolff and Paddy Lowe, along with Lauda.
Mercedes and Brawn have refused to comment on the development.
Brawn is one of the most successful engineers in F1 history, having masterminded eight drivers' titles with three different teams.
He was technical director at Benetton and Ferrari when Michael Schumacher won his seven world titles and ran the Brawn team when Jenson Button became champion in 2009.
But Brawn has had less success at Mercedes. The team struggled through 2010-12, and although they have had an upturn in form this season, winning three races, they have been unable to consistently challenge world champions Red Bull.
Brawn made it clear at the Japanese Grand Prix that he believes that an F1 team needs to have one defined leader and that "we need to make sure if I'm to remain here that I'm the reference".
But Mercedes believe that the idea of a single team principal is an outdated concept given the complexities of modern F1.
They are splitting the position in two - with Wolff running the business and political sides of the team and Lowe the sporting and technical aspects.
McLaren's Button said he had fond memories of working with Brawn in 2008-9.
Brawn ran Button's Honda team in 2008, and then the two went through a difficult winter after the Japanese company sold the team before Brawn managed to buy it early in 2009 and went on to win the title.
"It was a great couple of years (working with Brawn)," Button said. "We had 2008 which was a really difficult year and went through the pain together at the end of 2008 and then the glory of 2009. Some good memories.
"I still see him. I saw him on the flight here after India and had a good chat. If it is the case that he's not at Mercedes next year it's surprising to see because he is a great team leader. We have seen that over the years and he hasn't lost that."