Lewis Hamilton column: The pursuit of Formula 1 greatness
Last updated on .From the section Formula 1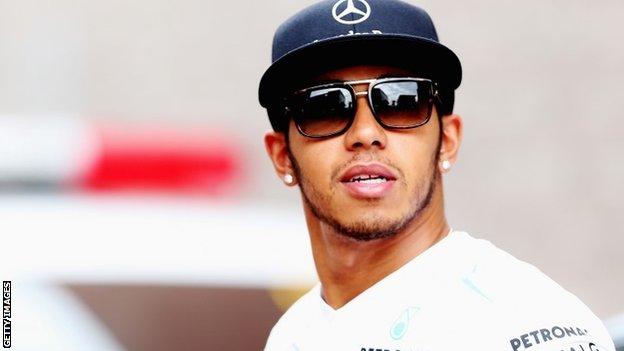 Sebastian Vettel won his fourth world title in India last weekend and I want to congratulate him on a superb achievement.
To have had so much success so young, he is well on his way to being seen as the greatest ever driver, in the sense that he could conceivably match Michael Schumacher's amazing records of seven world titles and 91 victories.
But the greatness of a Formula 1 driver is a more nuanced thing than just his raw statistics.
In my opinion - and that of many others - Schumacher was not more than twice as good as Ayrton Senna just because Ayrton won "only" three titles and 41 races.
In the same way, while Sebastian has had fantastic success these last four years, he is not twice as good as Fernando Alonso, for example.
Greatness is such an abstract concept.
You have to be in the right place at the right time. You have to utilise the tools you have. It's about how you work with the team, how you come across in the media, how you treat people, how you are as a human being.
There are lots of elements that define greatness. I am still trying to discover them all and that's really the aim.
As a driver, I feel I'm doing pretty well. When the car is able to win, I think I'll win.
I have confidence we'll be competitive next year but you never know. Maybe circumstances mean that I never win the world championship again. It could happen in our sport, who knows?
A while ago, that would have been a scary thought, but it isn't so much any more.
Naturally, I am massively passionate about racing. I love competing. I give absolutely everything every single time I get in the car. I love the ups and downs. I wouldn't want it always to be perfect.
The main thing, though, is I am just massively grateful to be here.
To have opened up doors to other cultures and races trying to get into F1 means a lot to me. Now, there are black people at grands prix, as well as Indians and other Asians.
I'm massively proud to have been in the privileged position to be a trailblazer in my sport, someone who has broken the mould, in the same way as the Williams sisters are in tennis or Tiger Woods is in golf. Hopefully others will come through in the future.
In any case, life is not all about racing. I want to race as long as I can and win as much as possible, but I also want to contribute to positive things in the world.
A welcome reality check
I'm committed to helping a handful of charities that are close to my heart, mainly focused on helping kids.
That's why I went to Calcutta in my role with Save The Children on Monday. I know I talked about this a bit in my last column, but I want to briefly mention it again.
I am helping their push for improved education in certain places around the world.
I had a tough race in India last weekend but I had an incredible Monday. It was a good reality check. I was frustrated I'd had a difficult race but these people are so happy, despite the fact they have no home, no school, no shoes and struggle to find clothes and food.
They were really smart kids but many of them were working, aged 10 or 11.
They all had ambitions - to be a doctor, or a nurse, for example - and there is a programme helping them learn to read and write.
I want to make any difference I can to try to improve their situation.
Hoping for a good weekend
You could not have a bigger contrast from that to Abu Dhabi with its wealth and the stunning location of the Yas Marina track.
I have always tended to have good races here. I was leading here in 2009 and 2012, only to retire, and won in 2011. But I'm not sure whether I will be quite as strong this year.
I'm still not that comfortable with certain aspects of the car. Braking is a large part of it, and that is really important in Abu Dhabi.
After spending so long at McLaren, they really knew how I liked the car to be set up. The simulator was highly advanced, to the point that sometimes we would arrive with a good set-up and barely have to touch the car all weekend.
Mercedes are a great team, with so much potential and promise, but we are still developing and we are not quite in that situation yet. And, personally, there are a few areas I am going to work on improving for next year.
Some races it's fine. Others, such as in India last weekend, I have really struggled. It took me until the final run in qualifying to get the right settings on the car and do a lap I was happy with.
There are a lot of 90-degree corners here in Abu Dhabi that require late braking and an aggressive approach, which has always been one of my strengths.
It has in the past been really easy to put the sectors together. Equally, McLaren tended to start the season slowly and keep developing right to the end, whereas this year we are very focused on 2014 at this point in the season.
Despite that, I'm expecting a decent weekend, although whether we can challenge the Red Bulls is another matter.
Lewis Hamilton was talking to BBC Sport's Andrew Benson