Abu Dhabi GP: Paul Di Resta hopeful form will earn drive
Last updated on .From the section Formula 1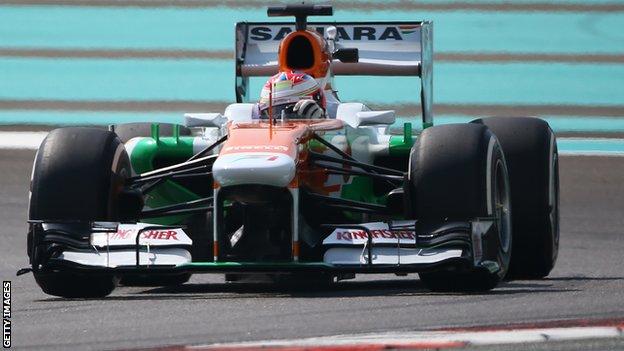 Force India's Paul Di Resta is hopeful his recent good form will help secure him a Formula 1 drive for next season.
The Scot, who is without a confirmed team for 2014, finished sixth in Abu Dhabi on Sunday to pick up points for the ninth time this season.
"There are a lot of us who don't know where they will be next season but if I have the tools I'll deliver," he said.
"[Force India team principal] Vijay Mallya is giving off good signals but I want to know for sure."
Di Resta and his Force India team-mate Adrian Sutil were the only pair to complete the race at the Yas Marina Circuit using a one-stop strategy.
"It's a great feeling to finish sixth," added Di Resta.
"The eight points are just what we needed and everybody in the team deserves credit for the big effort that has gone in this week. That's two strong weekends in a row and we will move to Austin determined to keep up the momentum."
Sutil was also in the points as he finished 10th.
"Considering that I started in P17 I have to be quite satisfied about scoring a point and I'm happy about the team result," said the German.
"It's not been an easy weekend with the problems I had during practice and qualifying, but the strategy was the right one and we came away with a point."
Champion Sebastian Vettel recorded his seventh successive victory, ahead of Red Bull team-mate Mark Webber but it was also a good day for Mercedes, who secured 21 points to consolidate second place in the constructors' championship on 334 points.
Nico Rosberg was third while Lewis Hamilton finished just behind Di Resta in seventh.
"We didn't quite manage to take the challenge to the Red Bulls today," said Rosberg.
"But we were closer at least to one of them and hopefully we can make it happen in the last two races.
"I am pleased with how the car is going, I don't have the quickest car out there, which I would obviously like, but I am really pleased with how things are going."
There were smiles all round once more at Red Bull after they secured their 15th one-two and 99th and 100th podium finishes.
Webber was unable to take full advantage of his pole position as Vettel led from Turn One.
"Seb was on another planet today and was very, very strong in the first stint," said Webber.
"He was super quick and his tyres didn't wear out, which is a recipe for disaster for the rest of the opposition, me included.
"It would have been good to win, but we got second and I'll go to Austin and try and do better."
The win was Vettel's 11th of the season and seventh successive victory as he closes in on the record of nine set by Alberto Ascari achieved between 1952 and 1953.
"I think today was incredible; the pace we had was scary at some stages," said the four-time world champion.
"When I think of the times we've experienced over the last few years, it's incredible to have a strong group of people together that believes so much in what they do.
"To be part of that is great and makes me proud. "
Elsewhere the news was not so good for Lotus driver Kimi Raikkonen who was the only non-finisher in Abu Dhabi.
The Finn was forced out on the first lap for only his second retirement of the season but it came on the back of having to start at the back of the grid after he was disqualified from qualifying when his car failed a front-floor deflection test.
"There was some contact in front of me through the first corner so I stuck to the inside, but unfortunately one of the Caterhams touched my front wheel and it broke the track rod," he said.
"It's never easy starting so far back on the grid, but after the penalty it was a better choice to help our chances in the race rather than starting from the pit lane.
"After a difficult start to the weekend we did well on Saturday so it was a shame we couldn't start where we qualified, but these things happen sometimes. It's just bad luck."