Kimi Raikkonen finally shows his emotions in Abu Dhabi

By Andrew Benson
Chief F1 writer
Last updated on .From the section Formula 1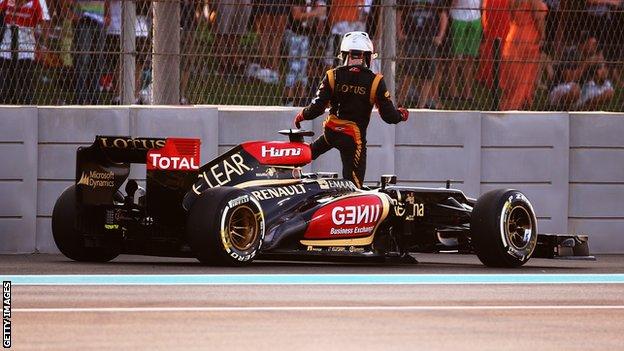 He is known as the Iceman, but it was a loss of cool from both Kimi Raikkonen and his Lotus team that led to the stand-off that made the Finn the focus of the Abu Dhabi Grand Prix.
Another seemingly inevitable victory by Red Bull's Sebastian Vettel - in a style so impressive it left team-mate Mark Webber wide-eyed with admiration - was totally overshadowed by an unfortunate dispute between Raikkonen and Lotus.
The background to it is the fact that Raikkonen has, as he put it when he arrived a day late in Abu Dhabi, "not been paid a single euro all year". But it was triggered by a row between the team and driver at the race in India a week previously.
And it has revealed a rarely seen emotional side to Raikkonen, who has constructed the image of a man who does not have one.
In the closing stages of the Indian race, Raikkonen was on worn tyres and had his team-mate Romain Grosjean bearing down on him at a rate of two or three seconds a lap.
Rather than let the Frenchman go, Raikkonen raced him, even pushing him wide and off the track at one point.
For a team that has had a difficult year, overshadowed by financial concerns of which Raikkonen's unpaid salary is only the tip of the iceberg, and locked in a fight with Ferrari and Mercedes for second place in the constructors' championship, it was their worst nightmare.
The difference between second and fourth in the championship is more than $20m. Raikkonen's obstinacy - or determination to race, depending on how you look at it - was putting a podium position for Grosjean at risk, with Ferrari's Felipe Massa bearing down on both of them.
That is the background to Lotus trackside operations director Alan Permane swearing at Raikkonen while ordering him to "get out of the way", to which Raikkonen responded in similarly forceful style.
It got worse after the race, with Permane accusing Raikkonen of "not being a team player". Raikkonen, who has scored a comfortable majority of Lotus's points in the last two seasons, took extreme exception to that and when he flew back home to Switzerland from Delhi he seriously considered not coming to Abu Dhabi at all.
Raikkonen did finally make it to the Yas Marina track after reaching what he described as "an understanding" with the team - one that apparently involves an agreement over how he will finally receive the £14.5m he is owed so far this year from his salary of eight million euros and a bonus system that rewards him with 50,000 euros a point.
It emerged over a weekend of febrile speculation in Abu Dhabi that Raikkonen had last week threatened Lotus with a winding-up order. Now, though, sources say that a deal has been agreed and the problem is sorted out.
Lotus team boss Eric Boullier admits that Raikkonen has not been paid, but has always said that the company's employees come first - they, after all, do not have 10s, perhaps 100s, of millions in the bank after a decade as one of the leading and best-paid F1 drivers.
Raikkonen, the argument of Lotus's owners the venture capital group Genii goes, does not need the money; their 500 or so employees with mortgages to pay do.
Lotus argue that the team comes first, that Raikkonen was wrong to block Grosjean in India, and although the team have apologised for the language used there, internally Permane has been told he did exactly the right thing.
Raikkonen said on Friday in Abu Dhabi that the row was "not the reason why I wasn't here yesterday, it is part of it but I wouldn't say it is a big part of it".
But his manager Steve Robertson admitted to this writer that Raikkonen had been genuinely upset, and that that was at least as big a part of his stand-off with the team last week as the missing money.
That makes sense. After all, Raikkonen has not been paid all year. Why would a couple more days of no money have been enough to make him refuse to come to a race, if there was not another reason as well?
The Raikkonen-Lotus row split opinion in Abu Dhabi. Not many team people had sympathy for him blocking his team-mate, but some felt Raikkonen had a point when it came to the money side of things, that he had to make a stand now, while he still had some leverage before leaving the team for Ferrari at the end of the season.
Others felt he was being a bit childish and egocentric and pointed out that threatening the team with a winding-up order was an ill-considered course of action.
Genii, after all, is a huge company, with lots of fingers in lots of pies. It wants its F1 team as a useful way of provoking business deals, but it doesn't need it. The team are losing Genii a lot of money and if the group wanted it could close it down overnight. And then Raikkonen would definitely not get his money.
Lotus's cashflow problems are simply the most high-profile example of a problem that is afflicting several of the smaller teams, and Raikkonen is not the only driver who has not received a salary this season.
Mercedes executive director Toto Wolff was scathing in Abu Dhabi, saying: "Without wanting to be too hard because I have no knowledge of how the team is being run, you operate on the budgets you have available and this is how any normal company functions. You can't overspend. It is damaging F1. You have to have a sustainable business model."
Perhaps Lotus have been caught out by their own success in the last two seasons, they probably did not expect to be having to pay Raikkonen so much money after finishing fifth as Renault in 2010 and 2011, when their highest drivers' championship position was sixth with the much-missed Robert Kubica in 2010.
Either way, it seems there may be a light at the end of the tunnel. The businessman behind a US-Middle Eastern consortium called Quantum, which is said to be buying 35% of the team, said on Sunday that the deal was "definitely happening". In which case, Lotus will not only be able to pay Raikkonen but also sign Nico Hulkenberg, their preferred driver, for 2014.
By then, Raikkonen will be at Ferrari, where he will have no problems being paid but will be faced with Fernando Alonso as a team-mate.
Until now, all the talk has been about whether Alonso will be able to keep his head with Raikkonen's stony-faced presence in the team. After all, Alonso would have preferred to keep Felipe Massa and Ferrari's decision to replace him suggests they are not as committed as they used to be to their team leader.
But Raikkonen's actions over the last week have suggested that he, too, is vulnerable to emotions. He is, after all, a normal human being, even if he sometimes does a good job of hiding it behind a carefully constructed wall.
It adds an extra level of intrigue to what is already one of the key narratives of a season that does not start for four months.
Managing the pair of them will clearly test the finely honed political skills of Ferrari team principal Stefano Domenicali to the limit.
As one rival team boss put it to me in Abu Dhabi: "Good luck, Stefano. It's going to be fun watching from the outside."