F1: Why did Red Bull's Mark Webber never win the world title?
By Lawrence Barretto
BBC Sport
Last updated on .From the section Formula 1232
Few drivers leave Formula 1 with so many admirers having earned so few accolades.
Mark Webber had a decorated career which warranted a mighty trophy cabinet. He was a proven race winner - one of only 103 drivers to climb aboard the top step - claiming nine victories and an impressive 42 podiums.
But the Australian missed out on the ultimate prize: the World Championship, most agonisingly in 2010.
Getting your hands on that shiny trophy, at a glittering FIA prize-giving gala in Paris in front of all of your rivals, is what every driver lucky enough to make it into F1 aspires to.
If they say otherwise, they're lying. Win it just once and you'll cement your name in the sport's annals alongside a select few - just 32 have managed it in the sport's 63-year history.
Win it more than three times and you'll be placed among the greats such as Michael Schumacher, Juan Manuel Fangio, Alain Prost and, after this season, Sebastian Vettel.
But fail to win it at all and you'll forever just be a number, one of more than 800 drivers who tried and failed.
Webber falls into the latter category. He says he achieved his childhood dream by making it into the sport but looking back admits that, while he knew he was never going to be an all-time great, he believes he had what it takes to join that exclusive 32-man club.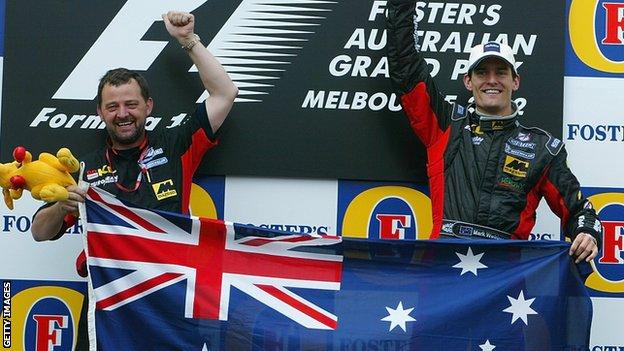 "My dream as a kid growing up in Australia was to make it to F1," said the 37-year-old, who will race in sportscars next season. "I think I did my absolute best at the time. I never would have thought I would have had a grand prix career of 215 races and banging out 42 podiums and some very special victories.
"You're measured on championships so do I see myself in the same calibre as some of the single world champions in the sport? I do see that. I don't have it but I'm still very proud of what I achieved. Am I as good as multiple world champions? Probably not."
To be fair to Webber, just getting to F1 was a brilliant achievement.
While four-time world champion Vettel had the luxury of being part of the Red Bull driver programme from his teens, Webber was scratching around for sponsorship to secure drives in various categories in Europe, having moved over from Australia.
In 1997, he was almost forced to quit halfway through his British Formula Three campaign before Australian rugby union legend David Campese stepped in and loaned him £40,000 so he could continue racing.
Webber later spoke to Eddie Jordan, who was running his own F1 team, and the Irishman put him in touch with Australian Paul Stoddart, who gave him a drive in Formula 3000 and his first taste of F1 as an Arrows test driver, in 1999.
Three years later, he was a fully fledged F1 driver for Stoddart's backmarker Minardi team. Having qualified 18th out of 22 cars in the opening race of the season in Australia, Webber finished a remarkable fifth, scoring two points on his debut.
From there, he drove for Jaguar and Williams before ending his career with seven seasons at Red Bull. Three third-place finishes in the drivers' standings - in 2010, 2011 and this season - were as good as it got.
So why did he never win the World Championship? Well firstly, he came up against one of the greats of the sport - Vettel.
Webber was team leader at Red Bull before the young German joined in 2009. But almost instantly, Vettel seized control.
The duo clashed several times during their partnership, most notably in the 2010 Turkish Grand Prix, when they collided while battling for the lead.
Vettel also disobeyed the now infamous "Multi 21" team orders to pass Webber in this year's Malaysian Grand Prix.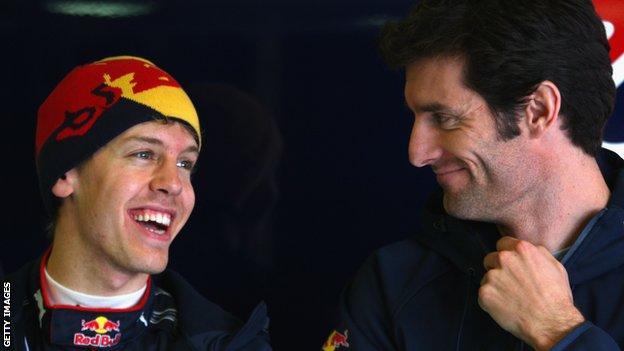 But despite Vettel's aggressive approach to competing with his team-mate, Webber cannot ignore the German's talents.
"I accepted that [Vettel is talented] many times," he said. "Seb is very, very good, no question about it. I'm completely comfortable with that."
But the Australian is less comfortable with the fact he was not always given a fair crack.
At Silverstone in 2010, for example, Red Bull brought two new spec front wings to the track. Vettel's was damaged in an incident, but rather than replacing it with the old spec, Red Bull took the other new one from Webber's car for his team-mate.
Calls that didn't go his way, along with the lion's share of bad luck in terms of reliability, severely hampered his ability to sustain a title challenge.
"You want the same, and the best opportunities to do the best that you can do," he said. "That's all you can ask. Obviously this year has been quite challenging in that respect."
And then there's the timing. Webber doesn't use the word regret, but he hints at it when he mulls over the fact he got hold of front-running machinery when he was perhaps past his peak.
"David Coulthard was in the prime of his career at McLaren whereas I was probably not in the super prime," said Webber. "I was in a good situation, but it would have been nice to be in my prime. If you want to be super fussy, you would have liked that. But you do the best with what you have.
"I think you can always find the perfect window that suits you. Any driver, whether it's Jenson [Button] or Fernando [Alonso] or Lewis [Hamilton] or whoever, will have their unique style - but we're not in a position where we can be fussy with that.
"We're not tennis players that play on four different surfaces each year. We're in that fine envelope of always having to perform at the optimum and you have to have an inherent bit of flexibility within your skill-set. That's what sets the absolute greats apart."
BBC F1 co-commentator Coulthard knows all about just missing out, having finished second once and third four times in the drivers' standings while his McLaren team-mate Mika Hakkinen collected two titles.
"I came up short in my career in terms of not winning the championship," said Coulthard. "I was consistently struggling relative to my team-mates to deliver that single-lap speed.
"What separates the good drivers from the great drivers is that outright ability to deliver a timed lap, a single flying lap, consistently across a year."
Had Schumacher not been around, Coulthard would probably have won the title. Equally, if Vettel hadn't, Webber could have - and Alonso and Hamilton could have added to their tallies.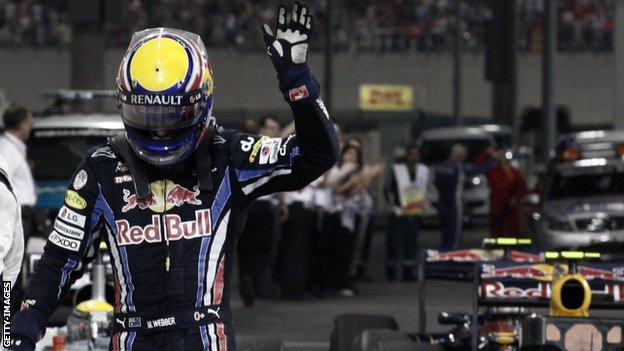 Coulthard added: "I think Mark has had a successful career, absolutely. I don't think there's any shame for him because he is still a very good racing driver in that there are a lot of very good musicians or very good footballers.
"I do know that Mark is fit, works hard and leaves no stone unturned but in any given period, there are one or two exceptional people."
Webber came closest to a title in 2010. Leading by 16 points with three races to go, he somehow left the season finale in Abu Dhabi 14 behind Vettel.
"That was a special year, but it just wasn't meant to be," he said. "We know we didn't pick the easiest year to try and win a title either - it was a good battle. I had two non-finishes that year and had a lot of races where I put myself in contention because I drove very well. That was that."
That failure to convert when he had the chance ultimately separates him from the greats.
Coulthard added: "In the six years Mika Hakkinen and I were team-mates at McLaren, I finished in front of him two times in the championship, but when it really mattered, he finished in front of me - and those were championship-winning years [1998 and 1999] for him.
"It's not like I wasn't able to string together a better season than him, but I wasn't able to do it when it counted - and that's all that matters. It's about winning races and winning championships - that's the reason people compete. And I came up short."
You could argue that Webber never recovered from 2010, though stunning victories in the 2012 Monaco and British Grands Prix reminded everyone that, on his day, the Australian was capable of beating anyone. Unfortunately for him, his day wasn't often enough.
Additional reporting by Andrew Benson