Abu Dhabi Grand Prix: Lotus and Lewis Hamilton punished for errors

By Gary Anderson
BBC F1 technical analyst
Last updated on .From the section Formula 1
Lotus came away from the Abu Dhabi Grand Prix with a fourth place for Romain Grosjean, but overall it was not a great weekend for them as they battle with Mercedes and Ferrari for second place in the constructors' championship behind Red Bull.
In India, Lotus successfully ran a one-stop strategy with Romain Grosjean finishing on the podium after starting 17th.
There were more opportunities to run a one-stop in Abu Dhabi because the tyres were lasting better, but Lotus did not try it and Grosjean finished behind Red Bull's Sebastian Vettel and Mark Webber and Mercedes' Nico Rosberg.
Lotus had their minds set on a two-stop from the start and Grosjean came in for his first stop as early as lap eight.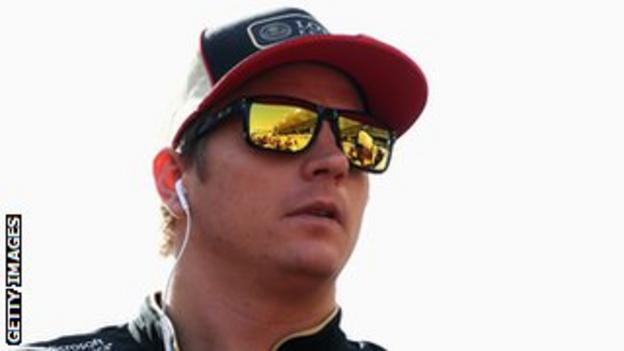 I was expecting him to wait until lap 15 or 16, as the Ferraris did. But a one-stop still might have been possible from there - it would have required Grosjean to do 47 laps on the mediums, and he had done 46 laps in India, where the track is harder on the tyres.
Grosjean was promoted to second place when Mark Webber and Nico Rosberg made their second stops on lap 33, with 22 to go. When Webber rejoined, he was 13 seconds behind Grosjean and was initially catching him at only about 0.2secs a lap.
So at that point Grosjean was fast enough to hold off Webber and Rosberg to the end.
Grosjean had such a big advantage over the Ferraris behind Webber and Rosberg that Lotus could have afforded to pursue a one-stop but still finish fourth even if the tyres went off and they had to pull out of it and make a second stop later on.
In other words, they would not have lost anything by trying to do a one-stop, they could only gain - so why didn't they?
Lotus have had their big benefits this year when they have done something different to their rivals on strategy, but in Abu Dhabi they just did the same as everyone else.
I think Lotus also made a mistake in choosing to start Kimi Raikkonen from the back of the grid following his penalty after qualifying.
They might have been wiser to change the car settings to make it easier to overtake and start him from the pit lane.
The car is not quick enough to pass people on the straight with its standard set-up - it produces a good lap time but it's not great for overtaking.
On the first lap, when the field is tightly bunched, it is so easy at the back to get caught up with other cars, especially when you're quicker than them.
Raikkonen suffered the consequences of that by getting into a tangle with a Caterham at the first corner and retiring with broken front suspension.
Had he started from the pit lane, Raikkonen would have been out of all that aggravation but almost certainly have still caught the backmarkers within half a lap.
It's never nice to start from the pit lane, but sometimes you have to bite the bullet and just do it.
LOTUS DISQUALIFICATION
Raikkonen was at the back of the grid because his car failed a front-floor deflection test after qualifying.
The rigidity of the floor is tested because if it moves it can provide a significant aerodynamic advantage.
Lotus argued that the stay which keeps the floor in place had been damaged when Raikkonen hit a kerb in the first part of qualifying - the same argument they successfully used when Grosjean had a similar problem in Hungary in July.
If the floor breaks that early, it means a car potentially has an advantage right through to the end of qualifying.
The FIA rejected Lotus's argument. They saw that other cars had had bigger hits and not suffered broken stays and they felt Lotus should have made the stay more robust.
The load test is there to stop teams designing the floor so that it flexes upwards under load and gives the car more downforce.
No-one is saying Lotus were trying to do that, but that is why a team will get penalised if the floor moves even if it is not deliberate. After all, the rules say the cars must comply with the rules at all times, and that it is up to the teams to ensure they do.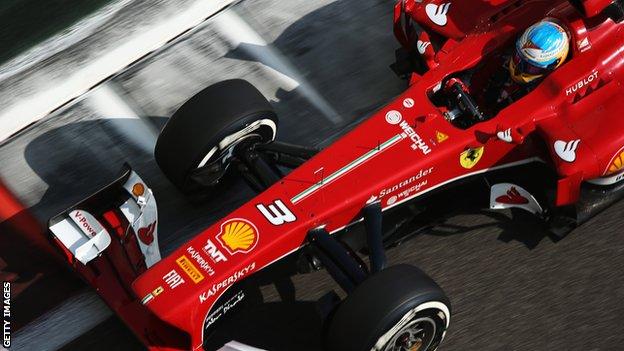 FERRARI
Ferrari were struggling for pace all weekend in Abu Dhabi but Fernando Alonso took a good fifth after starting 10th on the grid.
Alonso seems to have lost his mojo slightly in qualifying recently, but he is still driving strongly in races.
Ferrari headed into the grand prix with open minds about whether they would do one pit stop or two.
They did as long a run as anybody in the first stint - Alonso stopped on lap 16 and team-mate Felipe Massa on lap 18.
That was far enough to think about one-stopping, but they found in the second stint that they had to back out of it because of tyre wear.
Massa's medium tyres started to go and the team brought him in on lap 38, which with 17 laps to go they were worried might be too much on the soft tyres, so he was put on mediums.
Alonso got his middle stint to last until lap 44, and with 11 laps to go, and that was worth a punt on the soft tyres. You know they'll be quicker they'll last, even if they drop off in the last couple of laps.
That, I believe, would have been the right strategy to do with Grosjean - and if he'd run out of tyres with 10 or laps to go stick him on the softs, if that had happened a few laps earlier, put him on the mediums.
Alonso got a good result out of his strategy. He had a fairly dramatic exit from the pits, but I think he was justified in doing what he did.
It's always difficult to know what to do when you're exiting the pits like that with someone alongside you. Do you lift or keep your foot in?
It could have ended up with bits of Ferrari everywhere - which it nearly did - or he could have received a penalty. In the end, neither happened.
He had a big hit over the kerbs, which required a quick hospital check, but it worked out.
And in the end, after what was looking like a bad weekend, Ferrari got a decent result out of it with fifth and eighth places.
FORCE INDIA
Force India have had a very difficult second half of the season. They switched off development on the 2013 car to focus on 2014 very early - before the British Grand Prix - and they were badly affected by the switch back to 2012 tyres after Silverstone.
They lost their way a little bit after that, and they have had to refocus a bit on this year's car to try to get the best out of it because Sauber have improved and are closing in on Force India's sixth place in the constructors' championship.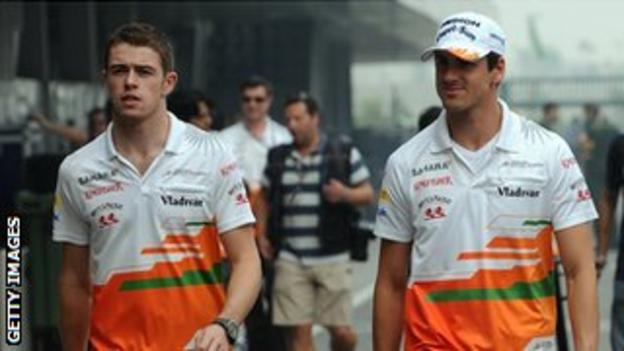 That one place is worth in the region of £9m in prize money, so it is definitely worth putting a bit of effort into it.
They now look as if they have got themselves back into the game a bit, especially in race trim.
They have had a couple of good races now, and in Abu Dhabi both drivers did a one-stop strategy, using the tyres the opposite way around from each other. The result was a sixth place for Paul Di Resta and a 10th for Adrian Sutil.
HAMILTON'S STRUGGLES CONTINUE
Lewis Hamilton was on target to qualify on the front row had he not made a mistake on his final qualifying lap, and he might even have grabbed pole.
He ended up fourth, but went backwards in the race to finish seventh, while Mercedes team-mate Nico Rosberg started third and finished third.
I watched Hamilton closely through the Abu Dhabi Grand Prix, and he spent an awful lot of it in traffic.
He is very aggressive when he catches another car. He gets right on their gearbox, he ducks and dives every which way, and that abuses the tyres. It costs the car about 20% of its downforce and as well as overheating the tyres it overheats the car, too.
Rosberg is perhaps too far the other way; he could be accused of being a bit too cautious, but he is certainly good at not getting right up another car's gearbox.
It's so easy to over-heat these Pirelli tyres and once that happens, they run out of performance so much quicker. Hamilton is suffering for his aggression.
Sometimes you have to think of the bigger picture. If you can't get past immediately, you have to back off for a bit to stop the tyres overheating and keep up your confidence that you can make progress.
If you get stuck, you're stuck at the slower pace of the car in front. It's better to drop back a bit, regroup, think about it and then nail him if you can.
Gary Anderson, the former technical director of the Jordan, Stewart and Jaguar teams, was talking to BBC Sport's Andrew Benson