Sebastian Vettel victory no classic, but F1 is a winner in Abu Dhabi

By David Coulthard
BBC F1 co-commentator
Last updated on .From the section Formula 1
The most dramatic moment of a somewhat lacklustre Abu Dhabi Grand Prix was Ferrari's Fernando Alonso going off track at more than 150mph - and bouncing over kerbs as he came out of the pits alongside Toro Rosso's Jean-Eric Vergne.
It was a controversial incident, because the rules dictate you cannot gain an advantage by going off the track, and Alonso did pass Vergne in the incident, albeit at the cost of a 28G hit on his back which required a precautionary visit to hospital.
The stewards took the view that Alonso should not be penalised because he had not gained an advantage - they felt that, as he was on new 'soft' tyres and Vergne on used 'mediums', the Ferrari would have got past straight afterwards anyway.
Not all the drivers will agree with that decision.
It was a brave, brave pass, but Alonso went there because he knew he could. There was a large run-off area to go into if Vergne either did not give way, or did not give space because he did not see him, as the Frenchman said was the case.
But if that was a more dangerous corner, with a barrier or gravel trap on the outside, Alonso would never have been there.
Drivers are smart - they think in a heartbeat what they will do and why - and Alonso is smarter than most.
I suspect Alonso was pushing to the limit to get as far alongside Vergne as he could at that moment.
Alonso is the ultimate political animal, and as soon as he was asked after the race whether he thought he might get a penalty, he said that it was Vergne who should have the penalty, not himself.
Whether he believes that or not is not the point; he was sending a message, and he is someone who influences things that happen in F1. Full respect to him - he understands the game.
Vettel just too quick - again
Apart from that, the race was not, it has to be said, a classic in the sense of wall-to-wall action from start to finish.
The race for the victory was over as soon as Mark Webber tried to deploy his Kers power-boost system a fraction too early on the run down to the first corner.
Webber made a decent start but pressed the button at 99.5km/h rather than the requisite 100km/h, which means it doesn't work. In India the week before, incidentally, Webber's Red Bull team-mate Sebastian Vettel did the same - at 98km/h.
In Abu Dhabi, Webber's slight miscalculation meant Vettel could get half a car alongside him into the first corner from his inside starting position and after that he was gone, on his way to another dominant victory.
Vettel was so fast that Webber happily admitted he could have done nothing about stopping the German winning even if he had beaten him into the first corner. Webber does not trouble to hide his admiration for what Vettel is doing with the Red Bull this year.
Vettel - and Webber - celebrated by doing some doughnut spins after the race and I'm glad the FIA, which punished him after he did it when he won the championship in India last weekend, did not do so in Abu Dhabi.
That was because his fine in India was actually for parking on the pit straight and therefore for not returning the car to parc ferme after the race - the rules are quite rightly strict on that - rather than the doughnuts themselves.
That's great, because the crowd love it. I have yet to see anyone who is not impressed by a doughnut - young or old, male or female. And if you do doughnuts, in a way that doesn't endanger anyone, it's part of the spectacle.
And, actually, it's a gamble, too, because a doughnut risks damaging his gearbox and engine. There are restrictions on how many gearboxes and engines a driver can use in a season and, with only two races to the end, everything is getting a bit high in mileage.
Webber was kept honest towards the end of the by race by Mercedes' Nico Rosberg, and behind them Lotus's Romain Grosjean gave another example of the increased maturity he has been showing in the second half of this season.
Last year, he might have dived rashly into some of the gaps he pulled out of on Sunday and paid the price.
His team-mate Kimi Raikkonen, though, made an uncharacteristic error at the first corner from his back-of-the-grid starting position, probably not expecting the Caterham to keep turning in.
That's Raikkonen's first retirement on the first lap since the US Grand Prix in 2006 but the upside for him was he managed to get back for his sundowners at happy hour at his hotel, so every cloud has a silver lining.
Abu Dhabi GP a success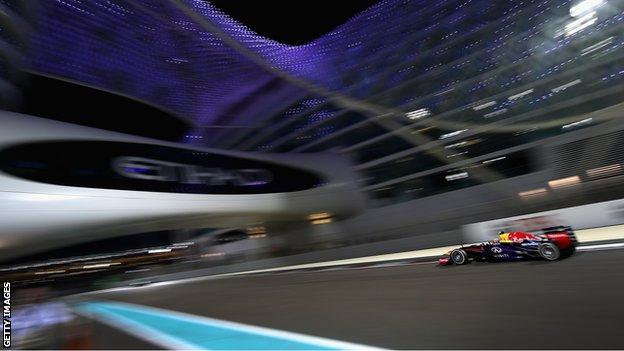 Abu Dhabi has only been on the F1 calendar for five years but it has become a must-visit grand prix.
That part of the world may not be to everyone's taste, but the race has established itself as a key part of the season.
As I had the conversation for this column on Sunday evening after the race, we were standing above the man-made harbour, some Brits were freestyling some a capella music with a guitar and people were hanging off the back of the boats.
There are three stories of 'Paddock Club' area for corporate guests here, and it had sold out six months in advance. They could add more and still sell out.
It is somewhere families can come on holiday and go to the grand prix. It is a destination grand prix and the fact it is not the greatest track in the world - none of the drivers would say it was - is to one side.
So all in all, F1 is a winner despite there not being a lot of great wheel-to-wheel action.
David Coulthard was talking to BBC Sport's Andrew Benson