McLaren to replace Sergio Perez with Kevin Magnussen in 2014

By Andrew Benson
Chief F1 writer
Last updated on .From the section Formula 1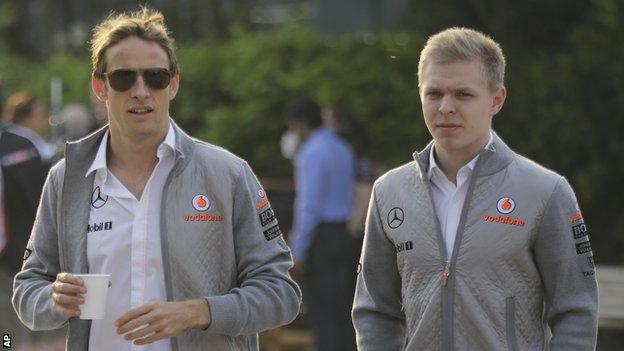 McLaren have decided to sign novice Kevin Magnussen as Jenson Button's team-mate next year.
The Dane's contract is not signed but team principal Martin Whitmarsh is set to give him the drive, sources say.
McLaren have chosen to promote the 21-year-old in place of Sergio Perez, who joined ahead of the current season, after conducting extensive analysis.
"We haven't confirmed our driver line-up. We haven't signed contracts with drivers," said Whitmarsh.
"We are still talking about that. There has been a lot of honest feedback both ways, which is best done in private not in public. We'll see in the future."
Magnussen, the winner of the Formula Renault 3.5 feeder series this year, is set to be the first rookie driver to be taken on by McLaren since Lewis Hamilton in 2007.
Perez has been linked with a potential move to Force India in 2014. He joined McLaren for this season as a replacement for Hamilton but the team have been underwhelmed by his performances.
In an uncompetitive season for McLaren in which they have failed to score a podium for the first time since 1980, Perez has taken 35 points to Button's 60.
The 23-year-old has scored points in the last two races, including a fifth place in India that matches Button's best result of the season.
But the team have spent the week since the last race in Abu Dhabi analysing his performances and concluded that Perez has a speed deficit to Button that he will probably never be able to bridge.
The race in Abu Dhabi was a case in point - despite being on a slower strategy, Button made up 23 seconds on Perez after a pit stop on the second lap to replace a damaged front wing.
Perez finished ninth after starting eighth on the grid. Button was 12th after dropping to the back following his unscheduled pit stop on lap two.
Asked if Perez had done a good enough job to be retained in 2014, Whitmarsh said: "He's done a good job; we're still taking to him.
"We have not provided either of our drivers with a good enough race car.
"In those circumstances Sergio has been a great team member, he's made a spirited contribution, had some exciting races, some really good races, ruffled some feathers, and done a pretty good job thorough the year.
"Abu Dhabi was difficult. It was not the result he and we wanted but difficult weekends happen.
"He's a clever guy and a good driver for anyone next year, including ourselves."
Magnussen is the son of former F1 driver Jan Magnussen, who also made his debut for McLaren, in the 1995 Pacific Grand Prix.
He is one of two young drivers contracted to McLaren whom the team rate as potential future world champions. The other is Belgian Stoffel Vandoorne, who was second to Magnussen in Formula Renault 3.5 this year.
McLaren's analysis of Magnussen's performance in their simulator suggests he is already faster than Perez, and he has been extremely impressive in his two F1 tests for McLaren, at Abu Dhabi in November 2012 and at Silverstone in July 2013.
Magnussen is more experienced than Vandoorne, whom McLaren believe is not quite ready for F1 yet. Whitmarsh has hinted strongly McLaren will find a seat for him in the GP2 feeder series in 2014.
Whitmarsh said he expected Vandoorne to be a McLaren driver "one day".
The team are determined to find a place for the 21-year-old in F1 in the next couple of seasons as well.
McLaren remain committed to trying to prise double world champion Fernando Alonso away from Ferrari for 2015 and, if they succeed, next season will effectively be a shoot-out between Button and Magnussen to see who would partner the Spaniard.