F1 preview: United States Grand Prix, Austin, Texas
Last updated on .From the section Formula 1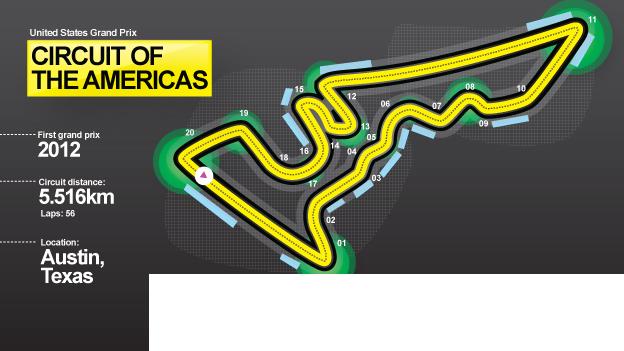 Last year's inaugural United States Grand Prix in Austin, Texas, was considered by the teams, drivers and fans as one of the best new races in recent years.
A relief for those who have tried and failed to make Formula 1 work long term in the US, following races on city streets like Phoenix, in Las Vegas casino car parks and traditional American road courses. Most notably, the disastrous 2005 Indianapolis GP began with just six cars on the grid following safety fears over tyres.
The track
The 5.516km, 20-turn track provides a stern challenge for drivers, with several elevation changes that weave slower, technical sections with fast, sweeping turns.
The hallmark of the track is that architects tried to incorporate all of the best elements of circuits around the world in one layout.
Turn One shares a likeness to the steep nature of Eau Rouge at Belgium's Spa Francorchamps while Turns Two and Three are similar to the Senna S in Interlagos in Brazil.
The high-speed sweeping turns of Four, Five and Six are remarkably similar to the Maggotts, Becketts and Chapel complex at Silverstone, while Turns 12-14 echo the stadium section at Germany's Hockenheim. Turns 16 to 18 look a little like Istanbul Park's multi-apex Turn 8.
The best overtaking place looks to be Turn 12, which comes after a long back straight.
The venue
Formula 1 first graced the shores of the USA in 1959 at Sebring in Florida and has since visited eight other venues - Riverside, Long Beach, Watkins Glen, Detroit, Dallas, Phoenix, Las Vegas and Indianapolis.
Few will forget the 1981 and 1982 races when the F1 circus ended up in Caesars Palace car park. Things took a step up in class when the Indianapolis Motor Speedway, known as the Brickyard, which hosts the Indy 500 held the event from 2000-07.
America took a gamble by building its first purpose-built F1 racing venue on a 1,000-acre site in south east Austin, Texas. Construction on the £250m project began in 2010 and, despite funding issues, the track - which can hold 120,000 spectators - was ready just under two years later.
It is a gamble, though, that appears to have paid off. A total of 265,499 people attended the three days of last year's race weekend, with 117,429 fans alone on race day.
What the drivers say...
Red Bull driver Sebastian Vettel: "It was sometimes almost more rally style than Formula 1, because it was so slippery! The section after the steep hill at the beginning is particularly challenging. Last year it took me quite a while to get my bearings and to position the car correctly."
Sauber driver Nico Hulkenberg: "Austin is a place everyone in Formula 1 likes, and I certainly like it. The organisers have done a fantastic job in putting an event like this and making us feel welcome."
Force India driver Paul Di Resta: "It's great to have a race there, especially at such an impressive facility. I still remember the huge crowd that came to the race last year and the amazing atmosphere. The place was absolutely packed and the whole city was very enthusiastic about Formula 1.
The US GP highlights - 2012
Lewis Hamilton won the 2012 United States Grand Prix after a tight battle with Sebastian Vettel as Fernando Alonso kept the title fight alive.
Alonso finished third, which meant he was 13 points behind Vettel in the standings.
Hamilton's McLaren tracked Vettel's Red Bull throughout the race and finally passed him with 14 laps to go.