Bernie Ecclestone court case sees F1 deal-making under scrutiny

By Richard Conway
BBC Radio 5 live sports news correspondent
Last updated on .From the section Formula 1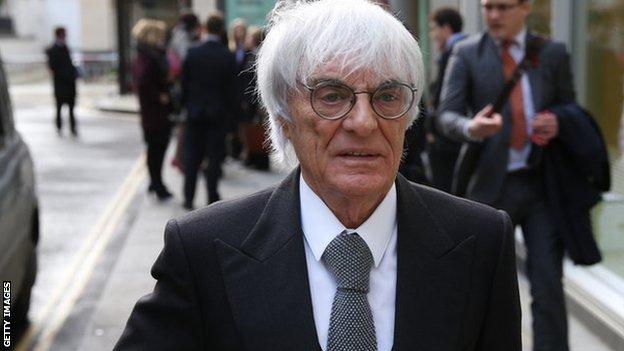 Court 26 at the Royal Courts of Justice is as far removed from the glamour and grease of Formula 1 as it is possible to get.
Yet it's here, amid the centuries-old British legal ritual and formality, that the future direction and leadership of the sport has been, and will be, shaped.
The case stems from a claim for £90m in damages by Constantin Medien, a German media company that says it lost out because of a "corrupt bargain" when a stake in Formula 1 was sold in 2006.
Its lawyers have told the court it believes Bernie Ecclestone undervalued F1 and engineered the deal to make sure a company called CVC Partners prevailed because, it contends, such a deal would allow Ecclestone to stay in charge of the sport.
Ecclestone has strongly denied this is the case, telling the court he had "no preferred buyer" and that no such arrangement existed.
His cross-examination is now over and after three and a half days of complex questions and terse exchanges with Philip Marshall QC, Constantin Medien's sharply focused and forensic counsel, Ecclestone left the court and headed to Austin, Texas, for the United States Grand Prix, the penultimate race of the F1 season.
I asked him as he left whether he feared his 40-year tenure at the top of the sport was now in doubt, with this verdict pending and other litigation hanging over him.
"Well, I don't know," said Ecclestone.
"People, if you listen, have been saying different companies wanted me to leave, and they would take over. But nobody has done that.
"I'm happy what I do. The minute I'm not, I leave."
Ecclestone, a man who has always forged his own path and who became a multi-billionaire after making F1 one of the world's most watched and lucrative sports, will have to wait several weeks now for this case to conclude.
Mr Justice Newey will then retire to make his judgement.
But when a verdict finally comes in this case, it will not mark the end of Ecclestone's legal issues.
A £400m civil case related to the 2006 sale is waiting to be heard in the United States.
And then early next year a German criminal court will decide whether Ecclestone should stand trial on bribery charges related to payments made to Gerhard Gribkowsky.
Gribkowsky, a German banker who was a central figure in the sale of the shares to CVC, is currently serving an eight-year jail term for being in receipt of corrupt payments.
Ecclestone denied in court this week that the £10m he personally provided to Gribkowsky was a bribe and said it was unrelated to the Formula 1 sale.
"I paid him to do a job," Ecclestone told the court.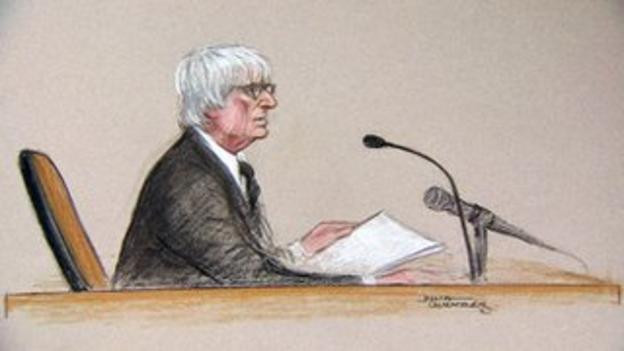 The job, it transpired, was to ensure Mr Gribkowsky didn't "shake him down" by talking to the UK tax authorities about the structure of his family's financial trust, Bambino.
The evidence heard in court so far has shone a light on how business and deals are conducted within Formula 1 - with everything from the Concorde agreement between the F1 teams and the sport's governing body and commercial arm to the potential for a rival breakaway series under discussion.
Ecclestone's dominance within Formula 1 and his force of will over the years has helped set the course for the sport, and made both him and F1 what they are today.
But now, at the age of 83, Ecclestone faces another, possibly final, challenge.
And with reputations and the future direction of a sport on the line, there's a lot more than the just money at stake.