Pastor Maldonado 'happy' to leave Williams at the end of the season

By Andrew Benson
Chief F1 writer in Austin, Texas
Last updated on .From the section Formula 1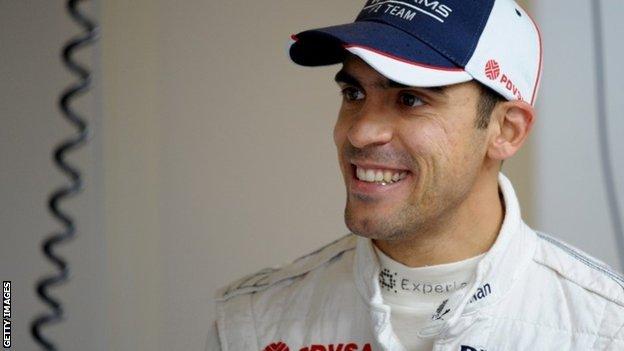 Pastor Maldonado says he is "happy" to be leaving Williams, following the team's decision to sign Felipe Massa.
"I wanted to leave the team and I'm happy about that," Maldonado said.
"It's been a tough year, very hard for the whole team, but personally I want to drive something different. This is an important time in my career."
Maldonado said leaving Williams, who gave him his F1 debut, was "a tough decision - my decision - but a great one".
The 28-year-old's relationship with Williams is linked to the team's sponsorship deal with the Venezuelan state oil company PDVSA, which started in 2011 on a five-year contract worth £30m a year.
But Maldonado and PDVSA both wanted to leave the team and Williams were also keen to move on with a new driver and sponsor.
They have come to a settlement that will end the PDVSA association by mutual consent.
In 2012, Williams had their best season for years, which included Maldonado qualifying in the top 10 on 13 occasions, seven of them in the top six.
But Maldonado squandered several potential strong points finishes with errors and accidents - after his win in Spain he did not finish in the points for the next nine races.
And this season they are poised for the worst year in their history. They have scored only one point, for Maldonado's 10th place in Hungary, and are ninth in the constructors' championship with two races to go.
Maldonado said: "Overall, I feel I delivered more to the team than they did for me.
"We had a victory, some good results last year, and even this year we've done well in some races, but this is not everything.
"I'm waiting and expecting something more from Formula 1."
Maldonado is hoping to go to Lotus, although that team would prefer to take Sauber's Nico Hulkenberg for 2014.
The decision may depend on whether a mooted investment deal by Lotus, which has been rumbling on for several months, comes to fruition.
Maldonado can take his PDVSA sponsorship to his next team and Lotus may be forced to take him if the investment deal does not come off. His other options are Sauber and Force India.
Maldonado said: "At the moment nothing's signed [with another team]. We're working on things. We're talking with Lotus, and I've another couple of options.
"I hope soon to have a clear decision with everything all sorted, and a clear road for next year.
"The important thing for me is to be in Formula 1," said Maldonado.
"Of the young drivers I'm the only one who has won a race, so I can deliver a lot.
"Last year I was always competitive, but because of the condition of the car I've had this year, everyone has forgotten my talent, the results and where we were last year.
"But I 100% believe in my talent. I've won all the categories in the past, and I hope to win in Formula 1 again next year."