Kevin Magnussen's decision to join McLaren is a risk - Jenson Button

By Andrew Benson
Chief F1 writer in Austin, Texas
Last updated on .From the section Formula 1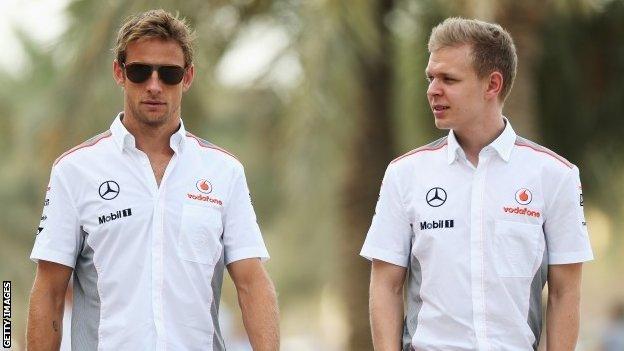 Kevin Magnussen is taking a "massive risk" making his Formula 1 debut with McLaren next season, according to his new team-mate Jenson Button.
"It's a situation that could light up your career or put an end to it early if it doesn't go well," said Button.
"It's a massive risk for a driver to jump in at the deep end with a team that should be fighting at the front."
Button acknowledged Magnussen had proved to be "very quick" and technically adept in his two tests for McLaren so far, in Abu Dhabi at the end of 2012 and at Silverstone last summer.
The Briton said: "His outright speed is very good and more important for me is - from the tests he has done in an F1 car - his feedback has been very good, which is going to be very important for the start of the year.
"It's always good to have a team-mate who is intelligent, which I think he is, and willing to learn."
Button praised Magnussen for being willing to take the chance after McLaren decided he had done enough in testing and in their simulator to prove he deserved the promotion.
"If a driver is willing to take that risk, he has a lot of confidence in himself and his ability. That's good," Button said.
"It could go one way or the other. I hope it goes the positive way because he is someone I want to work with throughout the year and he needs to be in a good frame of mind."
Button made his own F1 debut at a similar stage in his career to Magnussen. The Dane is 21, while Button was 20 when he entered F1 with Williams in 2000.
"He's got more experience than I had," Button said. "He's had a lot of experience for his age. But the testing is something that's quite difficult. Getting miles is a little more difficult than it was back then but from what the team have said he picks things up very quickly.
"The test in Abu Dhabi, he was very quick from the word go, and the same in Silverstone.
"He needs that and it's lucky he has that natural ability. That will definitely help him."
Perez agreed that next year could be tough for Magnussen. "I really don't know how quick he is," he said.
"I'm sure McLaren know how quick he is; that's why they are giving him the chance. I want to congratulate him. I'm sure he is very happy for the opportunity, but I think it is going to be very hard," added the Mexican.
"They are underestimating how much a driver needs to learn before getting into big shoes and a big chance like being a McLaren driver.
"We are having a very bad season, there is a lot of pressure in the team and if McLaren does not succeed next year fighting for the championship it is going to be a very difficult life for McLaren."
Button, though, said he felt Perez, who is now looking for a drive to salvage his F1 career and has been tipped to join Force India, had "come a long way in terms of driving this year".
"He has learnt a lot, put in some good performances," said Button.
"The one that stands out is India (where Perez finished fifth, equalling Button's best result of the season).
"It's always difficult to compare yourself when you've had issues in a certain race but in India he did a very good job.
"He has really picked up a lot and learnt a lot... and improved himself not just in terms of speed but in being a racing driver, in terms of developing the car and tyre management and what have you.
"He has definitely been on a steep learning curve."