Sebastian Vettel leads Mark Webber in US GP final practice

By Andrew Benson
Chief F1 writer in Austin, Texas
Last updated on .From the section Formula 1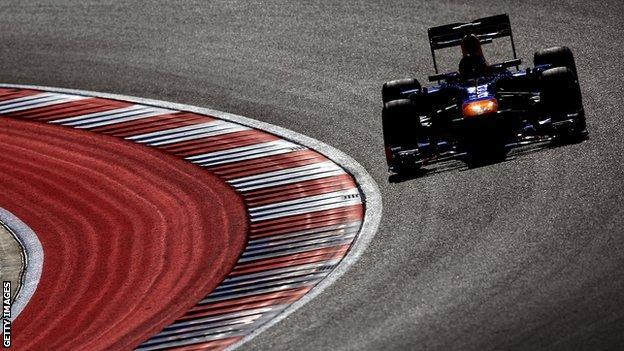 Red Bull appear to be in a league of their own at the United States Grand Prix after Sebastian Vettel led Mark Webber in final practice.
Sauber's Nico Hulkenberg was fourth, ahead of Lotus's Romain Grosjean, McLaren's Jenson Button and the second Mercedes of Nico Rosberg.
Fernando Alonso could manage only 11th as Ferrari continued to struggle.
The Spaniard, hoping to secure second place in the world championship this weekend, was also behind the second McLaren of Sergio Perez, the Williams of the impressive Valtteri Bottas and Force India's Adrian Sutil.
Alonso's team-mate Felipe Massa was only 17th in the second Ferrari, behind Sauber's Esteban Gutierrez, Lotus's Heikki Kovalainen, Williams's Pastor Maldonado, Toro Rosso's Daniel Ricciardo and Force India's Paul Di Resta.
BBC F1 technical analyst Gary Anderson said: "The Red Bulls are where we expected them to be. Sebastian Vettel has more time in there.
"I think Mercedes are working more towards Sunday and it's doom and gloom at Ferrari. They need to do something. They have everything and they are doing nothing."
Alonso was slower on the quicker 'medium' tyre on which the teams will qualify than Bottas, Button and Sutil were on the 'hard' tyre, which is between 0.6 and 0.8secs quicker on one lap.
His former title rival Vettel, on the other hand, continued his serene progress at the front.
The German, who tied up the world championship in India two races ago, has won the last seven races and looks unstoppable as he seeks to set a new all-time record of eight consecutive wins in a single season.
According to BBC F1 pit-lane reporter Tom Clarkson, Vettel barely changed his car during the session after some overnight tweaks to make it more to his liking.
Webber by contrast did work with the settings of his car and he edged closer to Vettel throughout the hour's running.
The fight for pole when qualifying starts at 18:00 GMT may be close, but in race trim Vettel appears to be on a separate level.