US GP: Fernando Alonso suffering persistent headaches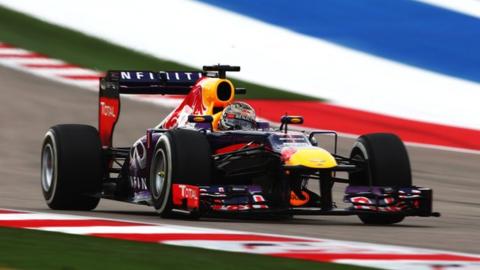 Fernando Alonso has revealed he has been suffering from persistent headaches since his 150mph incident at the Abu Dhabi Grand Prix.
The Ferrari driver suffered an impact measured at 28G when he bounced over kerbs in the race on 3 November.
"All week [after the race] I had a big headache because the nerve is compressed and I didn't have enough blood pressure in the head," he said.
He said he first suffered problems three or four hours after the race.
Alonso damaged his neck and back when he bounced over kerbs at 150mph avoiding Toro Rosso's Jean-Eric Vergne. Alonso went on to finish fifth.
"After Abu Dhabi I was fine, especially three or four hours after the race I was perfectly fine. Then I finally passed the anti-doping [test], because I waited four hours to pass it.
"They said: 'We need to check you because we had the alarm of the chassis [indicating an impact of more than 25G],' and when they did a normal test they saw some problem maybe, some lack of sensitivity in my left arm and my left leg.
"Because of that they were a little bit worried and they put in this thing and I went to the hospital for the MRI or I don't know what we did."
He added that in the week after the Abu Dhabi race "the nights were very difficult but slowly the inflammation became normal and I recovered the feelings".
Alonso produced his best qualifying performance for four races with sixth on the grid at the US Grand Prix on Saturday and repeated that his aim was to try to help Ferrari take second place in the constructors' championship back from Mercedes.
He said that in the car his back injury was "not a problem", adding: "A little bit of pain yesterday night, and this morning when I woke up, but driving with all the adrenaline and warm-up is good, so maybe tonight again still some pain. But in the race when you are in the car, you forget everything."
He said his target was to try to help Ferrari bridge the 11-point gap to Mercedes, who are lying second in the constructors' championship with two races to go.
Alonso can also secure second place in the drivers' championship to Red Bull's Sebastian Vettel.
Asked if he thought he could finish on the podium after what has been a difficult weekend for Ferrari, he said: "I had more 'impossible' podiums let's say in the past than this one, but I don't think it is fair to think in the podium now because we start sixth and we can touch it with the hand.
"I am here racing to help the team to get the second in the constructors' championships.
If I finish ahead of both Mercedes here and in Brazil we have a chance to do it. That is the main goal. If it is the podium it is even better but it is not the end of the world if not."
US Grand Prix - Live on BBC Radio 5 live & online, highlights on BBC TV
Sunday 17 November:

Qualifying highlights, 12:00 GMT BBC Red Button. Race coverage at 18:30 GMT BBC Radio 5 live, plus live text commentary online. Highlights 22:25 GMT BBC One