Genuine Sebastian Vettel deserves success - Coulthard

By David Coulthard
BBC F1 co-commentator
Last updated on .From the section Formula 1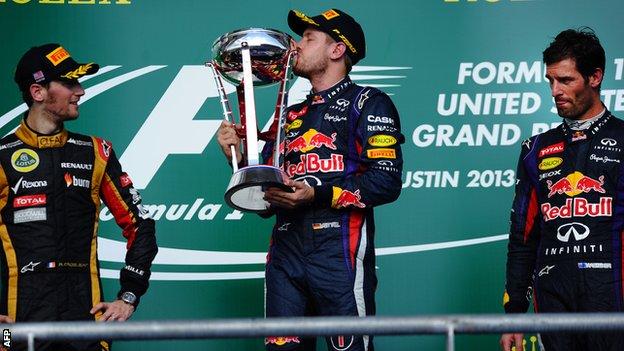 After four world titles in four seasons, you would think another record would not matter that much to Sebastian Vettel.
But after his victory in the US Grand Prix, you could tell that breaking the record for consecutive wins in a single season had genuinely moved him.
Those who doubt his ability, or don't like him, will think his radio transmission after the race was all manufactured PR. But I have known Vettel since he came to Formula 1 in 2007 and more so since he became involved with Red Bull in 2008, and he is genuinely delighted to find himself in that position.
Vettel is only 26 years old. Many people are just leaving university and starting their first proper jobs at that sort of age.
He has not been born with a silver spoon in his mouth and what he has achieved is an exceptional run of success.
To achieve that sort of consistency at this level is incredibly difficult. Vettel's team-mate Mark Webber is a good driver and he is not able to get that last tenth of a second or so out of that Red Bull car. That is the difference between good and great - a tenth of a second or so, and delivering it every single weekend.
While we're praising Vettel, we have to leave some over for Fernando Alonso, who secured second place in the championship on Sunday with a race to go.
That is a significant achievement which continues to underline Alonso's enduring quality.
It was another strong race from Alonso in Austin, including some really smart moves in wheel-to-wheel battles.
The best of those was at the start of the last lap. Alonso's rear tyres had gone and Nico Hulkenberg had caught him, and the Sauber passed the Ferrari into Turn One.
But Alonso let him go on the entry, tucked inside and got a better exit to re-take the place.
To finish second in the championship is an exceptional result in the circumstances, which are that he has the fourth fastest car.
I've written in previous columns this season that there are maybe four guys in that elite group - Vettel, Alonso, Lewis Hamilton and, perhaps, Kimi Raikkonen.
It's debatable whether Raikkonen achieves that level of performance every weekend - we'll find that out next year when he goes up against Alonso at Ferrari.
Even with Hamilton it is difficult to know for sure because he tends to be a bit emotional from time to time, although he put in a very solid drive in Austin.
There were some radio messages from Hamilton early in the race that suggested it might be slipping away from him.
His Mercedes team were warning him about tyre wear, which has been a bit of a bugbear for them and Hamilton this season, and he seemed to be a little frustrated.
But he kept it together, managed his tyres well while holding off Hulkenberg and Alonso, and took a well-deserved and very good fourth place.
Hamilton races with his heart on his sleeve. The way he communicates is very much based on the here and now.
If he is having a good lap or feeling, he will reflect that in his comments. So he is perhaps not as able to see outside that moment as other drivers, but that might be what makes him exceptionally quick in terms of raw speed.
Webber was kicking himself a bit on Saturday after qualifying. He knew he could have beaten Vettel to pole position had he not run wide in Turn 19 at the end of his qualifying lap.
Mark is heading into his final grand prix in Brazil this coming weekend but he is still driving to a very high level.
I remember from the end of my career that I was still driving as fast as I could, albeit that was not as impressive as what Webber is doing. That's what you do until the moment you stop, and then you switch on to something else.
Starting second meant Webber was always going to struggle to maintain position on the first lap and he lost out to Hamilton and Romain Grosjean when he got stuck on the inside at the first corner.
That made the difference between being second to Vettel and finishing third behind Grosjean.
Webber caught Grosjean in the second stint of the race but was unable to get by, thanks to a mature drive by the Frenchman which underlined how far he has come since his dark days last season.
A year ago, his team would have been nervous for him in that situation, but now he is a safe pair of hands. He is delivering and that was a very impressive race against a driver in a faster car.
There is a bit of a joke going around F1, following Grosjean's impressive recent performances compared to Raikkonen, that Ferrari have signed the wrong Lotus driver.
But let's not forget that in their two years as team-mates with equal opportunity, Raikkonen has been in front of Grosjean in the championship, and he is going to finish there this year despite Raikkonen missing these last two races following an operation to solve a long-standing back problem.
So Grosjean deserves credit where it's due based on the here and now, but world champions deliver over an entire season, and Grosjean has yet to do that.