Paul Di Resta: Formula 1 future is out of my hands

By Andrew Benson
Chief F1 writer
Last updated on .From the section Formula 1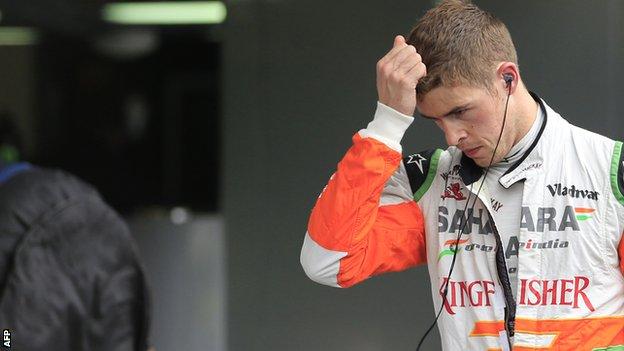 Paul Di Resta admits his Formula 1 future is out of his hands as speculation mounts that he will be without a drive in 2014.
Di Resta said: "They know what I'm capable of, they know what I can deliver. I feel like I'm an asset to the team.
"But I can't make the decision for them, and I have to respect their decision."
Sources close to Di Resta say he is already coming to terms with the fact that he may not be in F1 next year, but he insists publicly that he still hopes he can retain a place at the pinnacle of motorsport.
"I've said all along I'd love to be part of it," the 27-year-old said. "I've expressed that to the senior management [of Force India], bosses and the shareholders.
"Obviously, things are getting tighter in the midfield to get seats, so I have to be content with what I've done, and I believe over the last four races I've done what's been asked of me.
"I don't know what will happen. I've got to wait and see. We can only work in the background in trying to secure my Formula 1 future.
"We're speaking, and that's all you can do. All is not confirmed yet."
Di Resta's future is looking shaky partly because many of the midfield teams need drivers to bring money to secure full budgets.
Pastor Maldonado has left Williams and is likely to take his £30m worth of Venezuelan sponsorship to Lotus, although Sauber are also keen to have him.
Lotus would prefer to take Hulkenberg, but a senior member of the team has admitted to BBC Sport that they "can't afford him".
That's because Lotus have an approximate £40m gap between their outlay and their income and if they do not sign Maldonado owners the investment group Genii Capital would have to fund that themselves.
Genii is hoping to conclude this week an investment deal that involves a US-Middle Eastern consortium called Quantum Motorsport taking 35% ownership of the team, but finalisation of the deal has been repeatedly delayed.
The head of Quantum, Mansoor Ijaz, has been at the last two races and insists the money needed to conclude the deal will arrive, but Lotus insiders admit they are sceptical that the deal will happen.
Perez, who has been dropped by McLaren for next year in favour of Danish novice Kevin Magnussen, is understood to have about £10m worth of sponsorship from Mexico.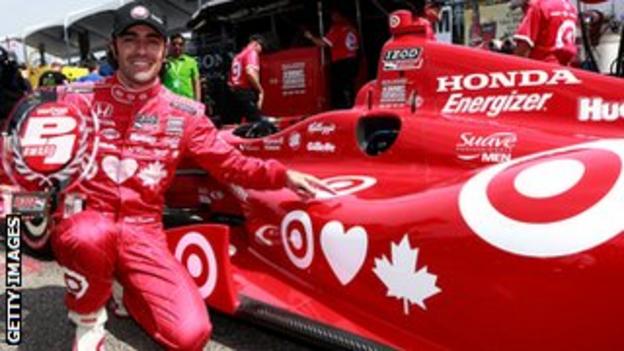 Force India's other current driver, Adrian Sutil, has a small amount of budget and could stay with the team, but has also been linked with Sauber.
The Swiss team had been expected to try to employ Russian teenager Sergey Sirotkin as a result of an investment deal with companies from the country that is hosting its first grand prix in Sochi next season.
But that is now considered less likely and they may instead stick with Mexican Esteban Gutierrez, who is in his first season in F1 with the team.
Russian former Renault and Caterham driver Vitaly Petrov has also been mentioned in connection with Sauber.
All of which seems to leave no place for Di Resta, who has little in the way of personal backing and is considering a future in US-based IndyCar racing.
Di Resta's cousin Dario Franchitti has just retired from a highly successful IndyCar career following a crash in which he broke his back for a second time.
Di Resta said: "I've always been slightly concerned about the safety of it [IndyCars], but sitting down and looking at it logically, it's a serious option to look elsewhere because of the success he has had.
"I'm not at that point yet, I've still a race to go and I'm doing as much as I can in this paddock to make sure I remain here."
He added: "I've got interest [from other categories of racing], but my primary objective is to stay in Formula 1, and that's what I'm concentrating on.
"I built a good reputation in DTM [winning the title in 2010], and there are other opportunities in a few other series.
"But I'll continue to live this dream I am in because I believe this is where I should be at the moment. I've put in the performances for that."