Caterham consider Marcus Ericsson for drive in 2014

By Andrew Benson
Chief F1 writer
Last updated on .From the section Formula 1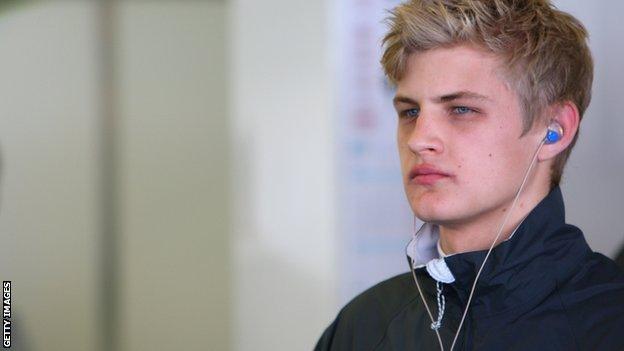 Caterham are considering Swedish novice Marcus Ericsson as one of their drivers in Formula 1 next season.
The 23-year-old, who finished sixth in the GP2 feeder series this season, is one of a number of drivers on a short-list for the back-of-the-grid team.
Among the others are their 2013 drivers Frenchman Charles Pic, Dutchman Giedo Van Der Garde and the team's reserve man, Finn Heikki Kovalainen.
Caterham's decision will be influenced by how much money a driver can provide.
That reduces the chances of Kovalainen securing a seat, despite impressing in the US Grand Prix last weekend after being freed from his contract to join Lotus as Kimi Raikkonen's replacement for the final two races of the season.
Pic said: "For next year, the logic for me would be to stay in Caterham but it's not sure.
"I think there are still many seats available for next year, so we will see.
"We try to focus on the races we have and give our best this weekend, try to get a good result for the team and then we'll see what happens for next year."
Caterham are hoping to win back 10th place in the constructors' championship from rivals Marussia at the final race of the season in Brazil this weekend.
The team have finished in that position for the last three years in their current guise and under their former identity as Lotus Racing, ensuring a larger slice of F1's prize money.
But Marussia currently hold the position as a result of a 13th place scored by Jules Bianchi in Malaysia back in March.
If either Van Der Garde or Pic can finish 13th or higher in the final race of the season in Brazil on Sunday and ahead of the Marussia drivers, they will secure 10th place for their team on results count back.
The forecast is for rain on Sunday, which often leads to a chaotic race in Brazil and the chance for the smaller teams to benefit from retirements in front of them.
Last season, Caterham secured 10th spot at the final race of the season thanks to an 11th place finish by their driver Vitaly Petrov in a wet race.