Lewis Hamilton column: This year I have done a lot of growing
Last updated on .From the section Formula 1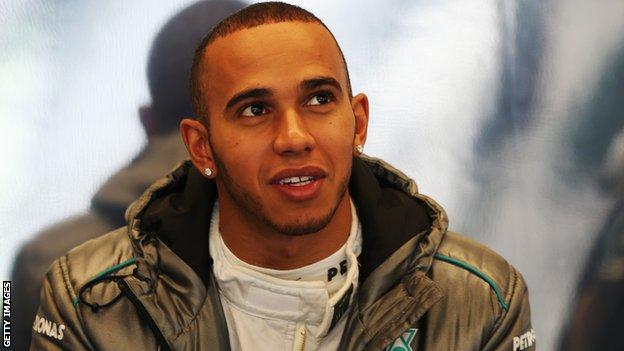 It's the final grand prix of the season in Brazil this weekend and I'm looking forward to both a good race and a break from Formula 1 for a little while.
I'll look back on this as a year in which I did a lot of growing, and in which I laid some really successful foundations with my new team, Mercedes.
I learned a lot this season about prioritising my life a little bit better, putting the right things in place, better use of my time throughout the year. It's just generally been a strong year for me personally.
There have been a number of highlights. Obviously winning in Hungary was a big one, but there were plenty of others too - going to the factory for the first time before the season, the first day driving the car, our first podium in Malaysia, and so on.
The British Grand Prix I have mixed feelings about. I should have won there, only to get a puncture after seven laps when I was leading comfortably.
After I'd got back to the pits and changed tyres I was the fastest guy on the track, and fighting back up to finish fourth was a good feeling even if we just missed out on the podium.
Mine was the first of a series of punctures that day and there is no doubt the tyres have been challenging this year.
We at Mercedes were close to Red Bull before the tyres were changed mid-season as a result of the series of failures at Silverstone. But Red Bull got on top of the new tyres better than anyone else and no-one has been able to get near them since.
Hopefully, next year the tyres will work a bit more consistently and we will be able to get the most out of them to score some great results.
I look back on joining Mercedes as absolutely the right decision to make. I've really enjoyed working with the team and I'm confident we are going to do well in the future.
But it has brought some challenges, particularly getting comfortable with the car and nailing the set-up.
I haven't managed to get the car to feel the way I like very often. I can get 85% of the way there, but that really limits what you can achieve.
I never expected that; it's not something I'd struggled with before very often. But the cars are a bit more complex now and it makes it tricky.
But you can't dwell on that sort of thing. You just have to learn from it and try to move forward.
Looking forward to a break
We're in Brazil, and I'm excited about going racing this weekend and hopefully securing second place in the constructors' championship for the team ahead of Ferrari. If we can do that, it would just be huge for us.
After that, I'm looking forward to getting home. An F1 season is so intense, and it will be nice to stop thinking about racing for a while and recharge my batteries.
There won't be much time for a break though. Pre-season testing starts at the end of January and I'll have to start training for that as soon as next week.
If I take a couple of weeks off to recover, it will just delay my preparation and that might not put me in the best place for next season. So I have to get on it straight away. I'm going to come back stronger than ever - that's my plan.
I spend some of the winter in Colorado. I do a lot of cross-country skiing for my training, and I have found a way to take the dogs with me. There is a kind of sled you can buy that they can sit on, so I'm going to wrap the dogs up warm and drag them behind me when I go skiing every day.
I'm looking forward to the dogs getting in the snow, spending time with my family and getting lots of sleep.
Next year is going to be very tough. There are a lot of changes to the regulations, particularly with the new turbo engines, and we will all have a lot to learn.
Paying tribute to a great rival
Mark Webber is driving his last grand prix this weekend and I have to say I am really sad to see him leave F1.
He is one of the nicest guys in the paddock. He is very straightforward, doesn't beat around the bush, always says what's on his mind and he has been great for the sport.
It has been a real pleasure to race with him. Mark's very fair and we need more drivers like him. We've had some great races together, which I've really enjoyed.
I really wish him all the best for the future and hope everything goes well for him in his new life.
Goodbye for now
This is my final column this year. It's been great to be able to give some insight into my life both in and out of the car and I hope you've enjoyed reading them as much as I have enjoyed doing them.
Please keep an eye on my website if you want to keep up with me while F1 takes a short break.
In the meantime, I want to say thank you for taking this journey with me and wish everyone all the best for Christmas and the New Year.