Christian Horner plays down Bernie Ecclestone successor talk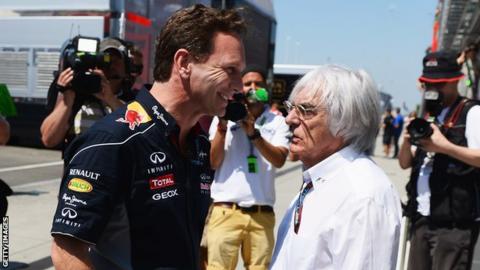 Red Bull team boss Christian Horner has played down "flattering" comments from Formula 1 chief Bernie Ecclestone earmarking him as his successor.
Ecclestone, 83, has controlled F1 for 40 years but previously signalled an intention to step down in 2015 and says Horner would be an "ideal" replacement.
But Horner says he is concentrating on his job at Red Bull for the time being.
"It's very flattering but my focus is fully on this team and is for the foreseeable future," he told BBC Sport.
"He is going to be here for a long time to come. He's in great shape and is still doing some great deals for the sport.
"I can't see how any one individual can replace Bernie. What he does is unique and it will be a sad day for the sport when he's no longer here."
Horner has supervised Red Bull's dominance of the constructors' championship, while the team's German driver Sebastian Vettel has become the world's youngest triple world champion during his tenure.
The 40-year-old is contracted as Red Bull's team principal until 2017.
But that has not stopped Ecclestone singling Horner out as the right man to take over when he decides to call it a day.
"Christian would be ideal. We could have a transitional period. It needs someone who knows the sport," said Ecclestone.
"People deal with me because they know me. I have known them for a long time and they trust me. They know I am straight with them.
"That is how it is with Christian. I hope we can do it."
Ecclestone has a close friendship with Horner and would prefer his successor to have first-hand knowledge of the sport.
Premier League chief executive Richard Scudamore and J Sainsbury chief executive Justin King have both been linked with the role in the past.
"If someone comes in from the outside, a corporate type, I don't think I could work with them," added Ecclestone.
"They wouldn't last five minutes. I don't want anyone who is a corporate type."