Bernie Ecclestone: Bank could open new case against F1 boss

By Dan Roan
BBC chief sports correspondent
Last updated on .From the section Formula 1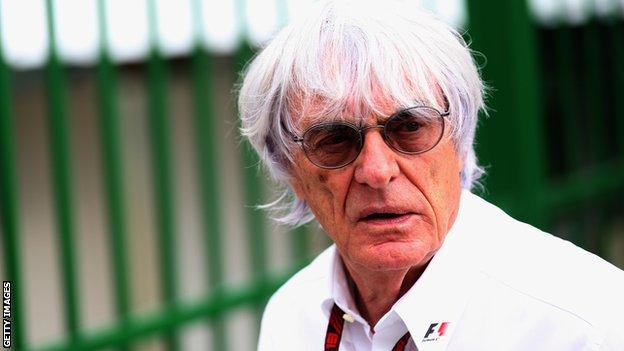 Bernie Ecclestone could face a fresh court battle over F1's bribery scandal.
German bank BayernLB have applied for access to documentary evidence used in the ongoing High Court civil lawsuit against the F1 supremo.
BayernLB sold its 47% stake in the motorsport series in 2005/6.
Ecclestone is being sued for $140m by Constantin Medien which says it lost out when part of F1 was bought by private equity group CVC Capital Partners.
The German media group, a former shareholder in F1, plans to use documents relating to the sale to support its allegation that Ecclestone and Gerhard Gribkowsky, BayernLB's former chief risk officer, were engaged in a "corrupt bargain" to deliberately undervalue the stake so the F1 chief executive could stay in control of the sport. These documents could now lead to a new claim by BayernLB.
Gribkowsky was last year jailed after pleading guilty in a Munich court to accepting $44m of payments from Mr Ecclestone and Bambino, an Ecclestone family trust.
A year ago, BayernLB wrote to Ecclestone's lawyers demanding $400m in damages, to no avail. The state-owned bank is watching current proceedings in the High Court as it decides whether to formally begin a lawsuit.
The Constantin trial is expected to end on 12 December, with a ruling expected early in the new year.
BayernLB's application for access to the documents will be heard next week. It is understood Constantin will not object to the release of the evidence.
Ecclestone is joined in the Constantin lawsuit by other defendants Bambino and Stephen Mullens, a trust adviser. They all deny the claims.
The F1 chief executive will soon learn whether he faces criminal proceedings in Germany after being indicted on bribery allegations in July.
Swiss prosecutors have also launched a criminal investigation into the payments to Gribkowsky.