New Jersey, Mexico and Korea dropped from 2014 F1 calendar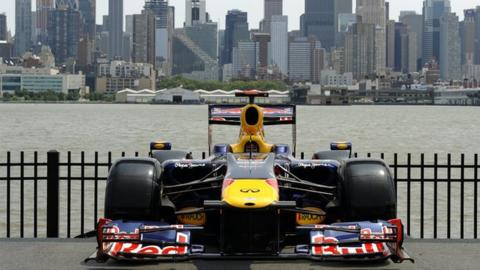 The New Jersey, Mexican and Korean Grands Prix have all been dropped from the 2014 Formula 1 calendar.
All three had been listed provisionally in a draft calendar issued in September but were not on the definitive 19-race schedule released on Wednesday.
The New Jersey race, with the Manhattan skyline as a backdrop, has now been postponed for two consecutive years.
Mexico last hosted a race in 1992 and is expected to reappear in 2015, while South Korea appears to be lost to F1.
The 2014 season starts in Melbourne, Australia on 16 March and ends in Abu Dhabi on 23 November.
There will be one new race - in Sochi in Russia on 12 October - and the return of the Austrian Grand Prix for the first time since 2002 following the refurbishment of the country's track, which is now called the Red Bull Ring after its new owners.
The Austrian race takes place on 22 June, two weeks before the British Grand Prix on 6 July.
The New Jersey race has been beset by financial and logistical problems since it was initially proposed in 2012 and there must now be severe doubts as to whether it will ever take place.
But the New Jersey race organiser Leo Hindery said he was still pressing ahead with plans for the race and Ecclestone said in a statement he had "no doubt" it would happen in 2015.
Hindery said: "Bringing a world-class race to the world's largest media market is a huge undertaking that has required balancing construction of our road course, without tapping any public money, with the sport's own timing demands."
Mexico's race had to be postponed after it became clear organisers did not have enough time to refurbish the track in Mexico City before next year's planned November date.
The Autodromo Hermanos Rodriguez last hosted a grand prix in 1992 and needs extensive remodelling before being suitable for modern F1.
The absence of the Korean Grand Prix ends an ill-starred four-year spell in F1 for the track built near Mokpo in the country's far south-west.
The local government had planned to build a new city around the Korean International Circuit, but ran out of money and have consistently been asking for the sanctioning fee to be reduced.
Full 2014 F1 schedule:
16 March Australia (Melbourne)
30 March Malaysia (Sepang)
6 April Bahrain (Sakhir)
20 April China (Shanghai)
11 May Spain (Barcelona)
25 May Monaco (Monte Carlo)
8 June Canada (Montreal)
22 June Austria (Red Bull Ring)
6 July Britain (Silverstone)
20 July Germany (Hockenheim)
27 July Hungary (Budapest)
24 August Belgium (Spa-Francorchamps)
7 September Italy (Monza)
21 September Singapore (Marina Bay)
5 October Japan (Suzuka)
12 October Russia (Sochi)
2 November USA (Austin)
9 November Brazil (Sao Paulo)
23 November Abu Dhabi (Yas Marina)