Fernando Alonso: Ron Dennis would not stop return to McLaren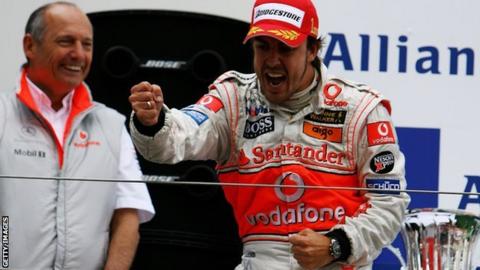 McLaren chairman Ron Dennis says he would have no problem if Fernando Alonso rejoined the Formula 1 team.
The two men fell out dramatically when Alonso raced for McLaren in 2007.
But asked if he would object to the Spaniard returning, Dennis said: "One has to recognise the first objective of any grand prix team is to win races.
"Whatever obstacles sit between a team wanting to win and winning, be it engineering, fiscal or human issues, you resolve them. You never say never."
McLaren team principal Martin Whitmarsh initially tried to sign the double world champion for 2014 following tensions between Alonso and Ferrari this season, but has now switched his attentions to getting him for 2015.
Alonso, runner-up to Red Bull's Sebastian Vettel in three of the last four seasons, is contracted to Ferrari until the end of 2016 and said in September that he hoped to extend his stay with the Italian team.
"I have three more years with Ferrari and I hope many more to come if we can extend the contract and that would be my hope," said Alonso.
Nevertheless, Whitmarsh is hoping to persuade the 2005 and 2006 world champion to join McLaren for 2015, when the team start their new engine partnership with Japanese firm Honda.
A fortnight ago, Whitmarsh attended the opening of an exhibition in Madrid that showcases artefacts from Alonso's racing career.
Officially, Whitmarsh went as one of Alonso's former F1 team bosses, even though, strictly speaking, Dennis ran McLaren at the time the Spaniard was with the team.
But sources close to McLaren say Whitmarsh also took a contract for Alonso to assess.
A McLaren spokesman confirmed Whitmarsh and Alonso met in Madrid, adding the two enjoyed "a very good relationship", but insisted their conversations had "focused" on the exhibition.
Alonso's manager, Luis Garcia Abad, dismissed notions that a contract had already been agreed between the driver and McLaren as "Formula 1 fiction".
"You cannot have two signed contracts, as when you sign one, you must notify the body that controls it," Abad said. "So it is technically impossible."
He added that "an unsigned agreement is not an agreement".
Alonso holds Dennis responsible for the breakdown of relations between him and McLaren in 2007.
Speaking in September, Alonso said: "I always said that there are no problems with anyone, it was just the philosophy of the team, especially one man in the team that is not there [any more]."
The Ferrari driver has also made it clear he would not return if Dennis had any involvement in the F1 programme.
Currently, Dennis has non-executive status and no authority over the F1 team.
However, he is said to be trying to increase his shareholding from its current level of 25% and re-establish his position as head of the F1 operation.
It also emerged last week that Dennis had informally sounded out former Mercedes team principal Ross Brawn, who says he will take six months out from the sport, about joining McLaren.
The problems between Dennis and Alonso began when Alonso was promised priority status within the team when he joined them in 2007.
However, when the season started, Alonso discovered Lewis Hamilton had been given permission to challenge him.
Alonso made it clear to Dennis he felt McLaren risked throwing away the title if they did not prioritise one driver over the other and continued to press his point.
As a result, their relationship deteriorated and finally collapsed over a tumultuous weekend at the 2007 Hungarian Grand Prix, where, in a row with Dennis, Alonso threatened to reveal incriminating information about McLaren to governing body the FIA.
The information would have undermined McLaren's position in the spy-gate scandal, in which a McLaren employee was found in possession of significant amounts of confidential Ferrari technical information.
Alonso later withdrew the threat and apologised to Dennis, but by then the McLaren chief had already phoned then FIA president Max Mosley to tell him what had happened.
McLaren had been cleared of wrongdoing at an initial hearing but a phone call from Dennis to Mosley resulted in a further hearing, at which McLaren were fined £49.2m and thrown out of that year's constructors' championship.