Formula 1 gossip and rumours from international media
Last updated on .From the section Formula 1
WEDNESDAY, 12 FEBRUARY
Ferrari team boss Stefano Domenicali has told Italy's Gazzetta dello Sport that his team has started the new era of hybrid turbo technology "in the right way" and added that in new signing Kimi Raikonnen he has a driver who knows that for Ferrari "finishing second is a tragedy".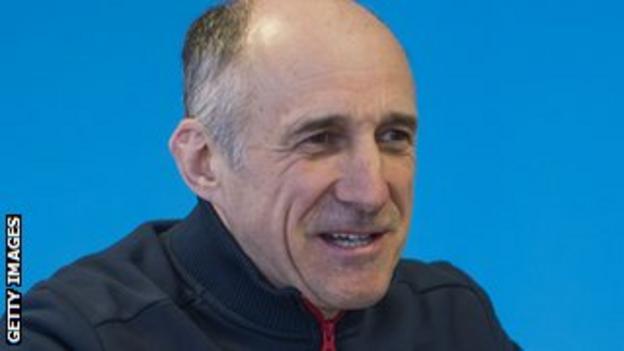 The solid performance by the Williams team in early testing has left Felipe Massa upbeat about the new Formula 1 season.
The 2014 Formula 1 rule changes will not turn the field inside out in the same way that the last regulations revamp did in '09, reckons Toro Rosso boss Franz Tost.
New Red Bull driver Daniel Ricciardo admitted that forming a partnership with Sebastian Vettel at the reigning Constructors' Champions has already improved his skills behind the wheel.
TUESDAY, 11 FEBRUARY
Mark Webber is expecting his replacement at Red Bull, Daniel Ricciardo, to give Sebastian Vettel a hard time in qualifying this year.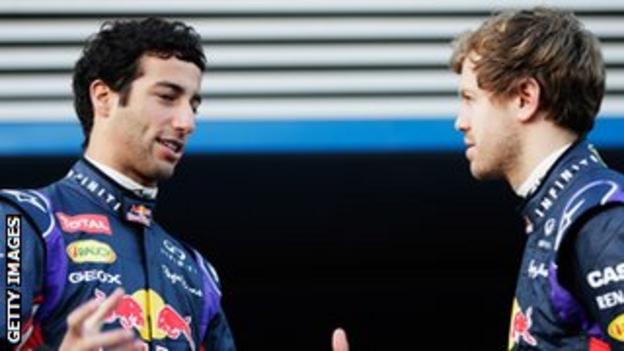 Ferrari technical director James Allison is expecting a rapid increase in the performance of the current Formula 1 cars before the start of the season.
Renault has confirmed that its 2014 power unit ran in an updated configuration "without any reliability problems" during the Lotus filming days.
Marcus Ericsson says he'll do his best to stay away from Pastor Maldonado who has a reputation for being "a bit crazy".
MONDAY, 10 FEBRUARY
Formula 1 kingpin Bernie Ecclestone is to offer a one million euro (£830,393) reward to anyone who provides evidence that teams are breaking the sport's $200m (£123m) a year spending cap.
Olivier Quesnel, the former Citroen World Rally boss, is weighing up an offer to take on a senior management role at the Lotus Formula 1 team.
Team boss Christian Horner has defended Adrian Newey's design for Red Bull's RB10 and insisted the car's flaws are "nothing major".
Heikki Kovalainen's disappointing form with Lotus last year played a part in Caterham's decision not to give him a 2014 Formula 1 race seat.
FRIDAY, 7 FEBRUARY
Rival racers Lewis Hamilton of Mercedes and McLaren's Jenson Button are working together to dethrone champion Sebastian Vettel in the Red Bull.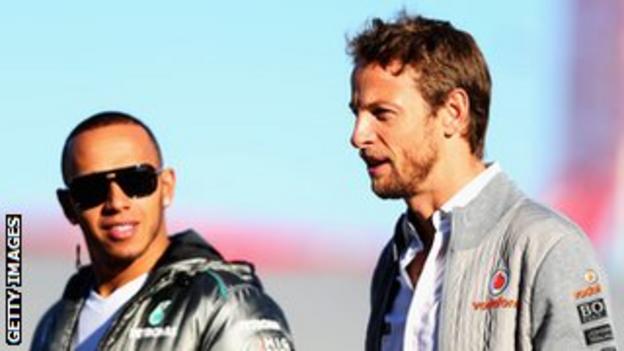 Qualifying at Formula 1 grands prix is set for an overhaul ahead of the new season in a bid to spice up the show.
Button believes this year's Formula 1 cars won't be much faster than the ones used in the GP2 series.
Force India has announced Hilmer Motorsport will be its official GP2 team this year and will run in the Formula 1 team's colours.
Adrian Sutil is expecting a 'huge' step forward from Sauber before the start of the Formula 1 season, after a low-key testing debut in Jerez last week.
Lotus will become the final team to run its 2014 Formula 1 car when the new E22 hits the track at Jerez in Spain on Friday.
TUESDAY, 4 FEBRUARY
Pirelli motorsport director Paul Hembery believes the two pre-season tests in Bahrain will allow the 11 Formula 1 teams a better chance to test this season's range of tyres - after spending most of their time in Jerez working on reliability and other issues.
Source: Press Association
Sauber team principal Monisha Kaltenborn says it is "impossible" to make fair comparisons between cars after just one lot of testing in Jerez. She also thinks some teams are still "playing their cards close to their chests".
Source: Press Association
MONDAY, 3 FEBRUARY
Formula 1's global television audience fell by 50m to 450m viewers in 2013 due to a non-competitive end to the drivers' championship and a switch from the national broadcasters in China and France, according to its annual global media report.
Full story: Wall Street Journal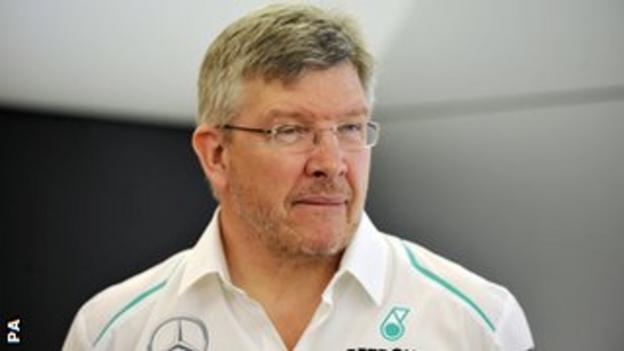 Mercedes motorsport boss Toto Wolff has conceded the team has felt the loss of Ross Brawn since his recent departure from the team following four years as team principal.
Red Bull owner Dietrich Mateschitz has expressed concern over the implications of Formula 1's planned budget cap which is due to be introduced next season.
Reserve driver Dani Juncadella says Force India's progress across the first test at Jerez shows what a steep learning curve the new regulations provide.
THURSDAY, 30 JANUARY
Ross Brawn has revealed the greatest achievement of his soaring career - title glory with Jenson Button at Brawn rather than his more celebrated achievements with German driver Michael Schumacher at Benetton and Ferrari.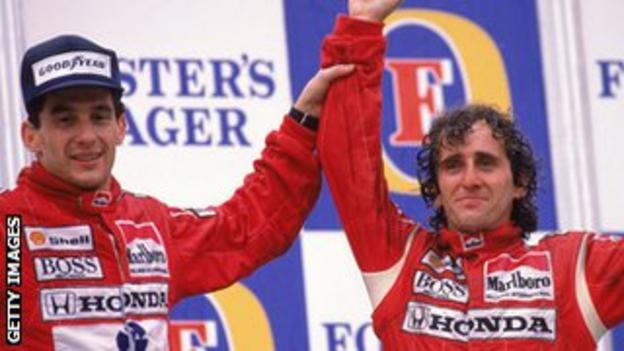 Four-time world champion Alain Prost marked his induction into the Motor Sport Hall of Fame by paying a touching tribute to former team-mate and rival Ayrton Senna.
A 1992 Honda NSX driven by three-time F1 world champion Senna is being offered at auction on 22 February.
Ferrari technical director James Allison says his team have looked at dozens of different nose types for the new F14 T, but has played down the importance of the nose for overall performance.
MONDAY, 27 JANUARY
Former McLaren chief Martin Whitmarsh has been approached by Lotus to take over as team principal. The 55-year-old is among two or three leading contenders for the post vacated by Frenchman Eric Boullier.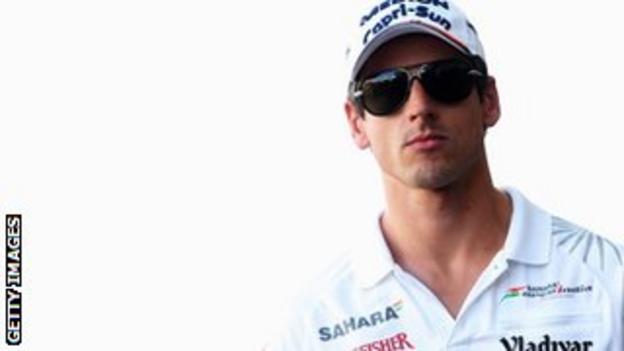 Sauber driver Adrian Sutil, 31, has said he is having to focus on losing weight ahead of the new season due to the revised technical regulations.
Kimi Raikkonen, 34, says there is no way of telling yet how his relationship with Ferrari team-mate Fernando Alonso, 32, will bear up to the heat of competition.
Alonso has said he hopes to emulate seven-time world champion Michael Schumacher by winning his first title with Ferrari at the fifth season of asking.
FRIDAY, 24 JANUARY
Lotus have released the first picture of their car via Twitter: "And here's our beauty."
The future of the Mercedes team in Formula 1 has been secured by F1 boss Bernie Ecclestone's exit from sport's the board last week.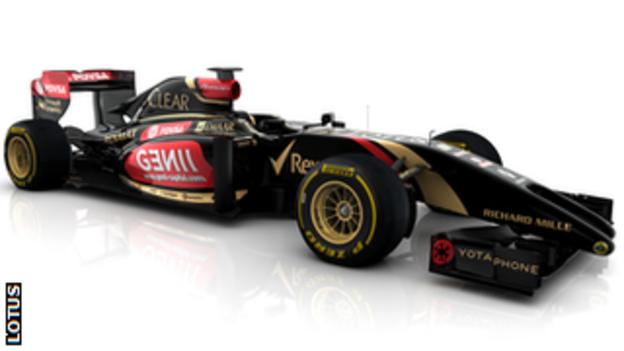 Ecclestone says the new F1 team proposed by Nascar team co-owner Gene Haas is "most unlikely" to get the green light due to the high costs of entering the sport.
Ferrari say their 2014 car will be called the F14 T after over a million votes were cast.
Eric Boullier is poised to be named as the new team principal at McLaren after the Frenchman resigned from the same role at Lotus.
F1 rookie Marcus Ericsson will be the first to test the new Caterham, when he gets behind the wheel on the opening two days of testing.
German Touring Car (DTM) driver Daniel Juncadella of Spain has been named as Force India's reserve driver for 2014.
THURSDAY, 23 JANUARY
Paul Di Resta is being primed for a Formula 1 reserve driver role with Mercedes after agreeing to race for the manufacturer in the DTM.
Ahead of their official launch next week, Williams has released the first image of its 2014 car.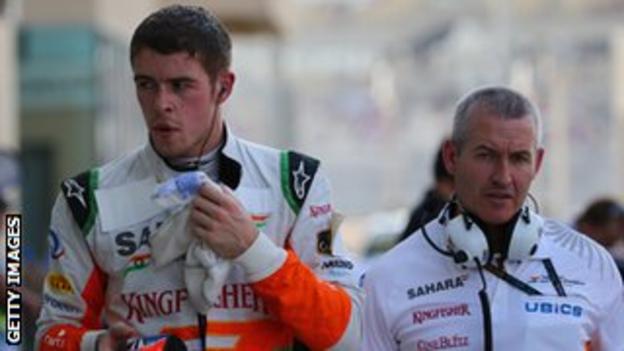 Lotus will be the only team not to attend the crucial first testing session of the 2014 pre-season.
"It does remind me of Alien with something coming out of the mouth." Caterham team principal Cyril Abiteboul makes a strange sales pitch for the 2014 car.
Kamui Kobayashi rejected an expanded Ferrari contract and will drive for Caterham for free to fulfil his Formula 1 ambitions.
The Malaysia Grand Prix could move from Sepang should plans to upgrade the Motorsports City facility go ahead.
SUNDAY, 12 JANUARY
Marussia sporting director Graeme Lowdon insists he has no concerns about the team's entry for the 2014 Formula 1 season.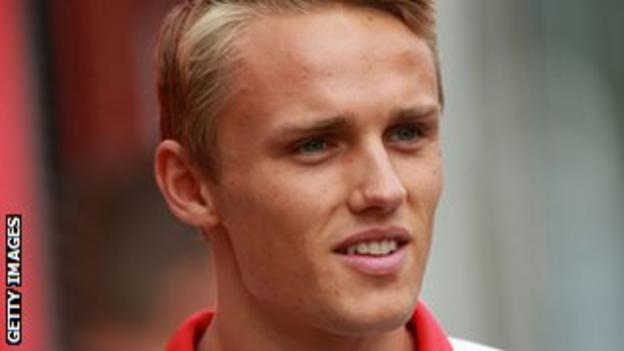 McLaren test driver Gary Paffett says Kevin Magnussen's pace can push Jenson Button to a higher level in 2014.
Max Chilton believes securing their maiden World Championship point is a realistic goal for Marussia this season.
Adrian Sutil insists that he feels no pressure to emulate predecessor Nico Hulkenberg's Sauber achievements as they swap places for the 2014 Formula 1 season.
Two little ducks!! Quack quack!
Jenson Button on Twitter, reacting to picking 22 as his race number for his career.
SATURDAY, 11 JANUARY
Jenson Button's old tour bus is being offered to hire as an £8,000-a-night 'seven star' hotel.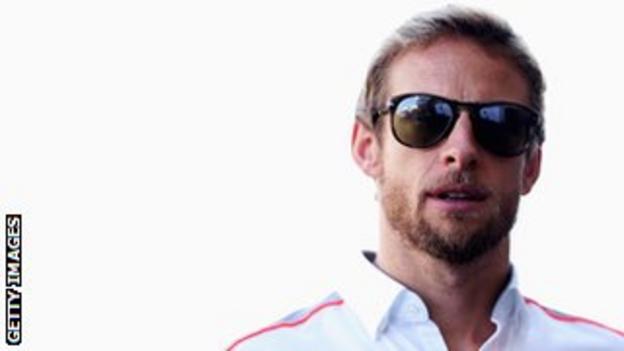 FIA race director Charlie Whiting has defended the use of the DRS in Formula 1 amid criticism that it makes it too easy to overtake.
The Indian Government has announced a change to the way that customs duties are to be levied on equipment being brought in and out of the country for motorsports events.
Former Formula One driver Robert Kubica is all set to enter his first full season in the World Rally Championship following a good off-season in which he has impressed team managing director Malcolm Wilson by being as dedicated and determined as ever.
WEDNESDAY, 8 JANUARY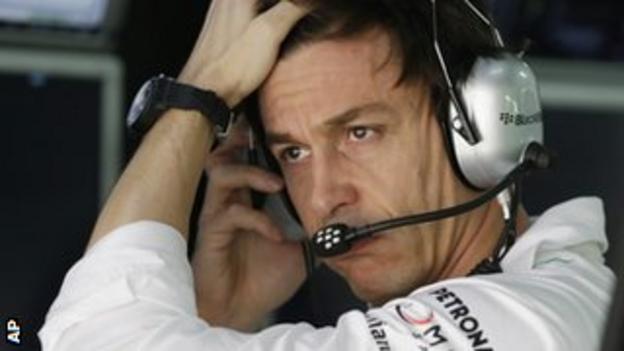 Mercedes motorsport chief Toto Wolff says the level of spending of Formula 1's top teams is unsustainable in the long term.
McLaren will unveil their 2014 car in an online launch on 24 January.
Mercedes will reveal their 2014 challenger on the opening day of the first pre-season test at Jerez. The four-day test starts on 28 January.
Italian Davide Valsecchi, who won the 2012 GP2 title, says he is likely to vacate his role as Lotus's reserve driver ahead of the 2014 season.
MONDAY, 6 JANUARY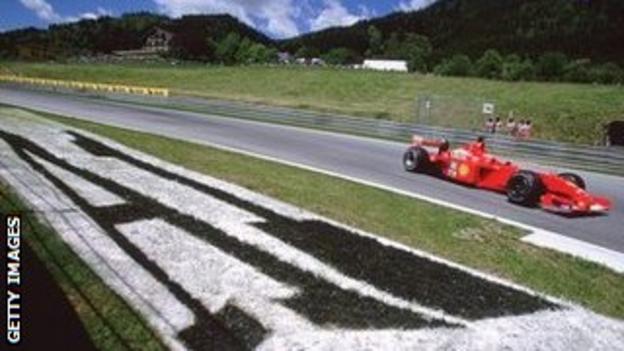 New doubts have emerged over the viability of New Jersey hosting the Grand Prix of America in 2015. F1 boss Bernie Ecclestone has claimed the organisers of the race, which was dropped from the schedule for 2014, are in breach of contract.
Former Williams chairman Adam Parr has joined the board of Cosworth, who were put up for sale in 2012 and stopped manufacturing engines for F1 the following year.
The 2014 Austrian Grand Prix has been given the go-ahead after the Red Bull Ring gained legal permission to stage the race from local authorities. It will be the first grand prix staged in the country since 2003.
THURSDAY, 2 JANUARY
Ferrari president Luca di Montezemolo admits the pairing of Fernando Alonso and Kimi Raikkonen "could be dangerous" for Ferrari.
Red Bull's Adrian Newey doubts Sebastian Vettel could have taken a clean sweep of race wins during the 2013 Formula 1 season even if Pirelli's more favourable tyres had been used all year.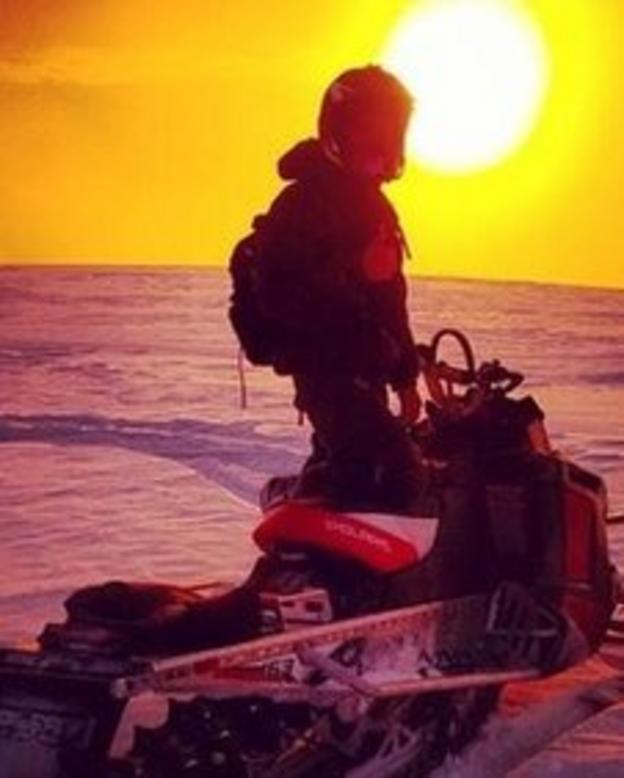 Mercedes non-executive chairman Niki Lauda has said reliability will be the deciding factor next season when it comes to determining which driver and team comes out on top.
Lewis Hamilton went snowmobiling during new year: "Great way to enter the year....snowmobiling with God's view. Truly am blessed to have a great family with me. #OneLove."
And the Mercedes driver has downplayed Ross Brawn's departure from F1, saying the sport will continue long after "any of us go away".