Lotus to miss Formula 1 pre-season test at Jerez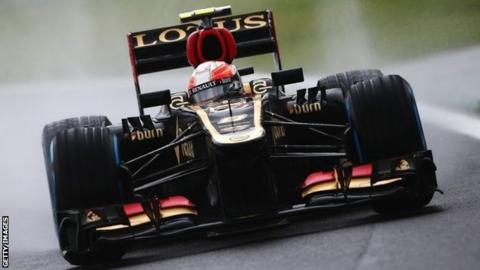 Lotus are to miss the first Formula 1 pre-season test at Jerez in Spain.
Technical director Nick Chester said attending the four-day test, which starts on 28 January, "isn't ideal for our build and development programme".
He said the car would run for the first time in the second test, at Bahrain from 19-22 February.
The decision gives Lotus more time to develop the car but means they miss out on crucial mileage as F1 implements its biggest rule changes in decades.
The sport is introducing 1.6-litre V6 turbocharged engines with extensive energy recovery systems in place of the previous 2.4-litre naturally aspirated V8s, and there are also significant changes to the aerodynamic rules.
Bahrain has been re-introduced as a testing venue this season after teams complained last year that winter testing in Spain was not representative because of the cool conditions in Europe in winter.
The track surface in Jerez is also unlike any the teams race at, meaning tyre data has limited use.
There is a third and final test in Bahrain from 27 February until 2 March, before the cars are shipped to Australia for the first race of the season in Melbourne on March 16.
Chester said: "In Bahrain, we should really be able to put the car through its paces in representative conditions."
He added the car had passed all but one of its mandatory FIA impact tests, with only that on the nose still outstanding.
Lotus finished last season fourth in the constructors' championship, with Kimi Raikkonen slipping from third to fifth in the drivers' championship after missing the final two races because of a financial dispute with the team.
Team-mate Romain Grosjean ended the season as the closest rival of the dominant Red Bull team and is joined for 2014 by Venezuelan former Williams driver Pastor Maldonado, following Raikkonen's decision to join Ferrari.
Chester said Lotus were optimistic they had found a "very good solution" to the challenge of incorporating the new rules into a competitive car, and hopes that will be evident when the E22 takes to the track.
"From our perspective, the figures look promising and development has been positive," added Chester. "That said, we are very much working with very little idea of what the other teams are doing.
"This is the first year of radically different regulations, which means that all teams are developing their cars along potentially quite different avenues.
"It's fascinating for us engineers and I hope it is fascinating for the fans too."
He added: "We've undertaken chassis fits for Romain and Pastor. Our partners who have seen the car have reported themselves to be very impressed with the layout and various solutions to the new technical challenges."