Formula 1's governing body confirm drivers' numbers

By Andrew Benson
Chief F1 writer
Last updated on .From the section Formula 1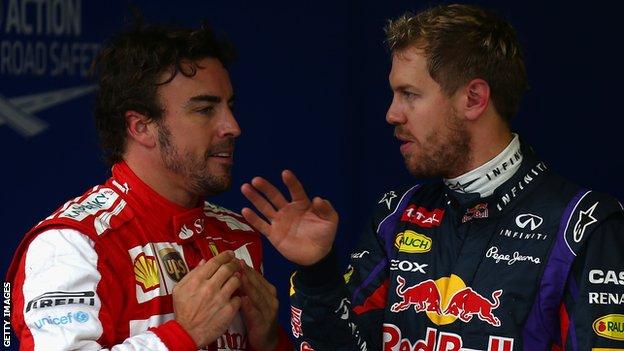 Formula 1 drivers have been allocated the race numbers they will use for the rest of their careers.
Governing body the FIA has published the 2014 entry list, revealing the numbers chosen by the drivers.
Under a new rule, drivers picked their preferred choices. If there was a clash, priority went to the driver placed higher in the 2013 championship.
As world champion, Sebastian Vettel has exercised his right to use one in 2014 and has picked five for his career.
Ferrari's double world champion Fernando Alonso is 14, his team-mate the 2007 world champion Kimi Raikkonen seven, Mercedes' Lewis Hamilton 44 and McLaren's Jenson Button 22.
Alonso, who was runner-up to Vettel in 2013, has chosen 14 because he used it during his teenage years in karting and he considers it lucky.
The famously unemotional Raikkonen said he picked seven because "it's the number I already had last year and I saw no reason to change it".
Button asked for 22 because it was the number on his Brawn car when he won his sole world title in 2009.
The rule was introduced so drivers could market their image with one number, as happens in grand prix motorcycle racing and the US-based Nascar stock car series.
Previously, numbers were allocated to teams on the basis of their positions in the preceding year's constructors' championship, with the teams deciding which driver carried which of their two numbers.
After the entry list was published, Marussia officially announced that Englishman Max Chilton will retain his seat for a second season. He is named on the entry list, but without an allocated number.
Caterham have not yet chosen their drivers and their slots are to be confirmed.
The full 2014 F1 entry list is as follows, with the drivers' race number listed first:
1* Sebastian Vettel (Ger) Red Bull-Renault
3 Daniel Ricciardo (Aus) Red Bull-Renault
44 Lewis Hamilton (GB) Mercedes
6 Nico Rosberg (Ger) Mercedes
14 Fernando Alonso (Spa) Ferrari
7 Kimi Raikkonen (Fin) Ferrari
8 Romain Grosjean (Fra) Lotus-Renault
13 Pastor Maldonado (Ven) Lotus-Renault
22 Jenson Button (GB) McLaren-Mercedes
20 Kevin Magnussen (Den) McLaren-Mercedes
27 Nico Hulkenberg (Ger) Force India-Mercedes
11 Sergio Perez (Mex) Force India-Mercedes
99 Adrian Sutil (Ger) Sauber-Ferrari
21 Esteban Gutierrez (Mex) Sauber-Ferrari
25 Jean-Eric Vergne (Fra) Toro Rosso-Renault
26 Daniil Kvyat (Rus) Toro Rosso-Renault
19 Felipe Massa (Bra) Williams-Mercedes
77 Valtteri Bottas (Fin) Williams-Mercedes
17 Jules Bianchi (Fra) Marussia-Ferrari
TBA Max Chilton (GB) Marussia-Ferrari
TBC Caterham-Renault
TBC Caterham-Renault
*Vettel has chosen to carry number one, as is his right as world champion, but has chosen 5 for the duration of his career