Death of Button's father won't affect Briton's driving - Stewart

By Andrew Benson
Chief F1 writer
Last updated on .From the section Formula 1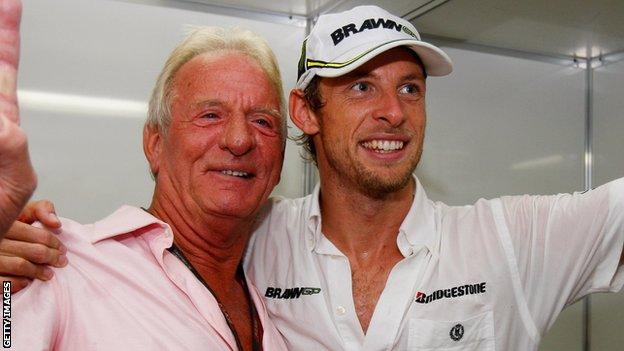 Jenson Button's driving will not be affected by the death of his father John last weekend, according to three-time world champion Sir Jackie Stewart.
John Button was instrumental in his son's career and attended nearly all his races to offer support and advice.
Stewart said: "His son will miss him terribly but a racing driver's mentality is a peculiar one.
"Look at all the death we had [in my era], and yet we still raced. The human being is an amazing animal."
And he added: "Racing drivers are probably tougher than most."
Stewart also said he felt Button's former McLaren team-mate Lewis Hamilton still needed to improve as a driver, as the 2008 world champion prepares for his second season at Mercedes.
"Lewis is the fastest driver in the business, just in sheer speed. When he puts a quick one in he is a master at it," said Stewart, who was talking at a media event to publicise Motor Sport magazine's Hall of Fame.
"But he hasn't yet been able to do that throughout a full race or a full qualifying period.
"Where the truly great drivers - [Jim] Clark, people like that - were able to do that, and so was [Michael] Schumacher and so is [world champion Sebastian] Vettel, I think there is still unfinished business for Lewis to come up to that level and be able to deliver that more than just occasionally. Or to be able to do it for a race distance.
"It's not easy. And to do it for a race distance you have to back off to go faster because you can't do a whole grand prix at that sharp edge of the knife to keep it upright.
"You can do it. [Alain] Prost was a master at it. Jim Clark was a master at it. I did it reasonably well. A lot of people learned how to do it.
"Had I not learned how to do it I certainly wouldn't have won three World Championships, that's for sure. You've got to see how the others live and sometimes you have to copy them."
The Scot, 74, added that he felt the eagerly anticipated intra-team battle at Ferrari between Fernando Alonso and the returning Kimi Raikkonen would ultimately go the Spaniard's way.
Asked who would score more points over the season, Stewart said: "Probably Fernando. I think he has probably got the best toolkit - up here [his head]."
But he added that Alonso would have to be able to control his emotions on the days Raikkonen was faster than him.
"He will [have a problem with it when Raikkonen beats him]." Stewart said.
"If he allows that to upset him… the one thing I learned is emotion is the most dangerous thing you can have. If you start getting emotional, do things, say things you wish you had never said, behave differently, you make mistakes.
"If you block out something because you got angry, people remember it. It's the same in a car. If you over-drive it, it doesn't talk to you in the same way."