Bernie Ecclestone steps down from F1 board pending bribery trial
Last updated on .From the section Formula 1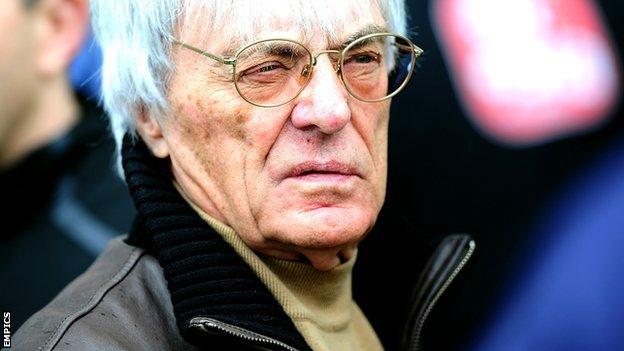 Bernie Ecclestone has stepped down from the board of the company which runs Formula 1 following his indictment on bribery charges in Germany.
But the 83-year-old will continue to run the business on a day-to-day basis, Delta Topco said in a statement.
Ecclestone will go on trial to face allegations he bribed a German banker who is serving a jail sentence for receiving the payment.
He admits paying Gerhard Gribkowsky, but denies bribery.
His stepping down means he can no longer approve and sign significant contracts.
The board of Delta Topco met on Thursday and were told by Ecclestone that he intended to vigorously defend the case, which will commence in late April.
A statement read: "After discussion with the board, Mr Ecclestone has proposed and the board has agreed that until the case has been concluded, he will step down as a director with immediate effect, thereby relinquishing his board duties and responsibilities until the case has been resolved.
"The board believes that it is in the best interests of both the F1 business and the sport that Mr Ecclestone should continue to run the business on a day to day basis, but subject to increased monitoring and control by the board. Mr Ecclestone has agreed to these arrangements.
"The approval and signing of significant contracts and other material business arrangements shall now be the responsibility of the chairman, Mr Peter Brabeck-Letmathe, and deputy chairman, Mr Donald Mackenzie."
Bavarian prosecutors have accused Ecclestone of giving a $45m (£27.5m; €33m) bribe to Gribkowsky to ensure F1 was sold to a private equity group of his choosing.
And while he admits making the payments between July 2006 and December 2007, he insists he was effectively the victim of blackmail, claiming he acted to prevent the banker revealing false details of his tax affairs.
Bavaria's district court have confirmed that a date for the criminal trial has not yet been set, but said in a statement that proceedings were likely to begin in late April.
Ecclestone is charged with bribery and incitement to breach of trust and will be obliged to appear at his trial.
The chief executive of F1 has ruled the sport for almost four decades. He is the long-time commercial rights holder of F1, but sold off a majority of the ownership in the 1990s.