Bernie Ecclestone says he will return to F1 board after trial
Last updated on .From the section Formula 1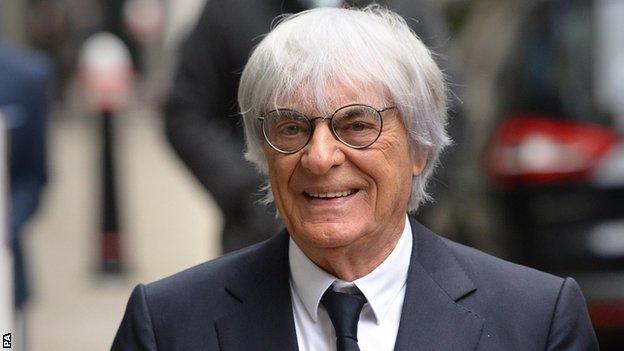 Bernie Ecclestone says he will return to the board of the company which runs Formula 1 following his indictment on bribery charges in Germany.
The 83-year-old has stepped down as a director of F1 parent company Delta Topco ahead of a trial that is likely to start in April.
He denies allegations that he bribed a German banker who is serving a jail sentence for receiving the payment.
"The minute the court case is over I'll be back on the board again," he said.
Bavarian prosecutors have accused Ecclestone of giving a $45m (£27.5m; €33m) bribe to Gerhard Gribkowsky to ensure F1 was sold to a private equity group of his choosing.
And while he admits making the payments between July 2006 and December 2007, he insists he was effectively the victim of blackmail, claiming he acted to prevent the banker revealing false details of his tax affairs.
Ecclestone added: "Everybody on the board is more than a million per cent supportive. They just want me to get on with doing what I always do.
"All that's happened is a few months ago we decided that if I had to appear in court, during that period I would stand down from my role as a director of Delta Topco."
The chief executive of F1 is charged with bribery and incitement to breach of trust and will be obliged to appear at his trial, which Bavaria's district court says is likely to start in late April.
"For Formula One Management it's the same as before," he continued. "There is no change at all. It's just that if I wanted to buy something I can't do it without board approval.
"But when it comes to races, circuits, it will be as we've always done. It will be the same thing."