Caterham: Owner Tony Fernandes threatens to pull out of Formula 1
Last updated on .From the section Formula 1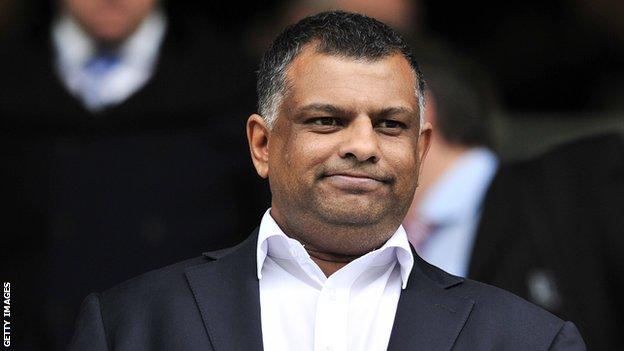 Tony Fernandes has threatened to quit as owner of Caterham at the end of the season if results do not improve.
Caterham have failed to win a point in 77 Grands Prix and finished bottom in last year's Constructors' Championship.
The Malaysian businessman, 49, who also owns Championship side QPR and airline AirAsia, has become frustrated at Caterham's lack of progress.
"If we're not competing then we have to seriously examine ourselves and ask 'does this make sense?'" he said.
Fernandes made the announcement on a visit to Caterham's Leafield base, where he announced an all-new driver line-up of Japan's Kamui Kobayashi and Swedish rookie Marcus Ericsson for the coming season.
"My message to the 250 people here (at the factory) is we have to go for it this year. This is it - the final chance," he said.
"We've given you the best infrastructure, the best potential drivers, but it is now down to all of you to go and do it.
"If we're at the back I don't think I'm going to carry on. Nothing is set in stone, but after five years with no points there is a limit to one's patience, money and motivation so it's an important year."
Fernandes says he sees no way for an outside team to break the stranglehold that Red Bull, Ferrari, McLaren and Mercedes have over the sport, and feels that football's unpredictability makes it a more exciting spectacle than Formula 1.
"I'm in a fantastic position to see two sports - football and Formula 1," he said.
"Every week I go to a [QPR] game nervous as hell, whether we're playing Yeovil, Doncaster or Leicester, because football is unpredictable.
"It's no secret people are paying more money to watch football, TV rights are growing, global audiences are growing, so what are they doing right that we're not doing right in Formula 1?
"The racing stays the same, with the same three or four teams there winning. There is no underdog who comes in.
"In football, what's great is a Yeovil going into a cup game and beating a Manchester United. That can happen in football."