Force India first to release photograph of 2014 F1 car

By Andrew Benson
Chief F1 writer
Last updated on .From the section Formula 1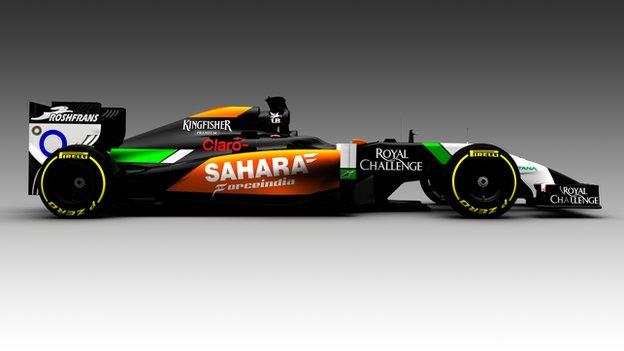 Force India have become the first team to release pictures of their 2014 Formula 1 car.
The team issued a single photograph of the VJM07 on Wednesday and admitted it had been carefully chosen to avoid revealing too much detail.
F1 is introducing the biggest set of rule changes for a generation this season and teams are keeping a close eye on rival designs.
Force India have chosen a new, predominantly black, colour scheme.
The Silverstone-based team said their ambition was to improve on their sixth-place finish in the constructors' championship in 2013.
Team principal Vijay Mallya said: "We've got to aim higher than last year. It's an ambitious goal, but I believe it's a realistic one because we have to look forward and take the fight to the teams ahead of us.
"We have the key elements in place to continue moving forward."
He pointed to the team's new technical partnership with Mercedes, which is supplying the entire drivetrain, and their all-new driver line-up of German Nico Hulkenberg and Mexican Sergio Perez.
The highly rated Hulkenberg re-joins the team for whom he drove in 2012 after a season at Sauber, in which he produced some eye-catching results in later races.
Perez is determined to rebuild his reputation after being dropped by McLaren after one season.
Mallya said: "Nico has been with us before, so we understand him and know how quick he is. It's great to have him back.
"As for Sergio, he's an exceptionally talented driver who I have watched carefully over the last three years.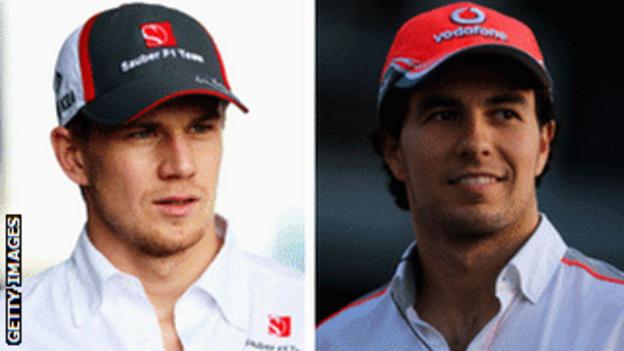 "He's clearly got incredible speed and at just 23 has great potential. As a combination, we thought they would make a strong pairing."
The angle of the photograph of the VJM07 prevents a full view of the nose of the car, one of the main discussion points in the build-up to the new season.
The rules dictate that the nose tips are 365mm lower than last year. Cars are expected to feature ugly noses with a very narrow forward section to provide the best aerodynamics within the rules.
Force India technical director Andrew Green said the nose design on the car in the picture was a "launch spec", adding: "Later, we will have an updated front end of the car, which potentially is quite different.
"We had to take quite a pragmatic view of it and say we've got to go testing so we've got to get a car out of the door."