Michael Schumacher: Felipe Massa praying for ex-Ferrari driver
Last updated on .From the section Formula 1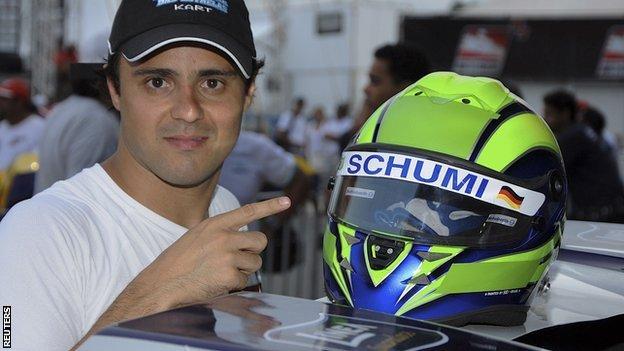 Felipe Massa says he is praying for seven-time Formula One world champion Michael Schumacher every day.
"Dear Michael, my great friend, you helped me so much in my career, and I pray for you every day," Massa, Schumacher's Ferrari team-mate in 2006, wrote on the manufacturer's website.
"I want to see you stronger than ever, just as always. I give you a big hug."
Schumacher remains in a stable but critical condition in hospital in Grenoble after hitting his head on a rock when skiing at the French Alpine resort of Meribel.
His wife Corinna is maintaining a constant bedside vigil and recently issued her thanks for messages of support, insisting her husband "is a fighter [who] will not give up".
Massa, 32, recently competed in an annual karting race in his native Brazil and wore Schumacher's name on his visor.
The pair represented Ferrari during Schumacher's final season in a 10-year spell with the Italian constructor.
The German finished second in the driver's championship, behind Fernando Alonso, with Massa in third.