Red Bull and Mercedes unveil new cars for 2014 season

By Andrew Benson
Chief F1 writer
Last updated on .From the section Formula 1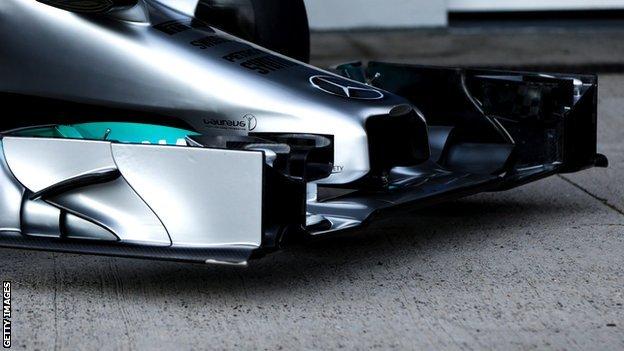 Red Bull and Mercedes, the two teams that start 2014 as favourites, have unveiled their new cars ahead of pre-season testing.
But both decided against using the 'anteater' nose seen on many cars.
Instead, they have opted for sloping fronts, in response to regulations that demand a lower nose for safety reasons.

Ferrari's new car boasts a similar design, although both Red Bull and Mercedes have maintained a more elegant downward curve.
Red Bull's car looks fundamentally similar to the ones that have helped Sebastian Vettel win the last four world championships.
As for Mercedes, who carry Lewis Hamilton's hopes, they have integrated the camera mounts on the nose into the aerodynamic design, by mounting them on r-shaped pillars on the top of the nose cone.
This may cause some of their rivals to question whether that is allowed.
The lower chassis and other aerodynamic changes are just part of the new regulations, which also include the introduction of turbocharged engines for the first time since 1988.
These feature the most extensive use of energy recovery - or hybrid - systems in the sport's history. As a result, engines are now called power units.
Mercedes have also had to adapt to a change of leadership following the departure of team principal Ross Brawn in December.
They will be led by their twin executive directors Paddy Lowe and Toto Wolff, with Lowe in charge of the sporting and technical side of the team while Wolff will handle the the political and business aspects.
"From a technical and also a racing perspective, this is an incredibly exciting time for Formula One," said Lowe.
"We are introducing technologies that are new not just to racing but to the wider automotive world as well."
He added: "The new car is an elegant but aggressive design and, as is often the way, its beauty is much more than skin deep - the internal engineering of the car is extremely innovative and intelligent."
Hamilton said: "The car looks just fantastic, so aggressive but full of really nice details as well.
"I am excited to find out how the new power unit feels to drive, to hear how it sounds from the cockpit and to compare the job we have done relative to the competition.
"I think this is probably the season with the most unknowns that I have faced in my career and that's just so exciting for all of us.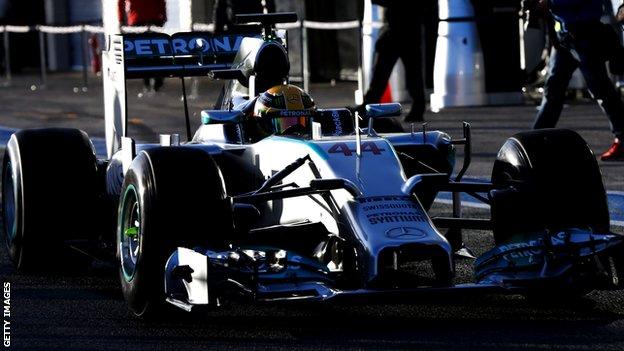 "It is still going to be a big learning year for all of us. There is so much new technology on these cars and so much information to take in and filter out to get down to what really matters, it's going to be a big challenge with changes to driving style and race strategies, too."
Force India also unveiled their new car, shortly before the track in Jerez opened for the start of testing at 08:00 GMT.
It features a narrow protuberance at the front of the nose, similar to that seen so far on the McLaren, Toro Rosso and Williams.