McLaren unveil MP4-29 car for 2014 Formula 1 season

By Andrew Benson
Chief F1 writer
Last updated on .From the section Formula 1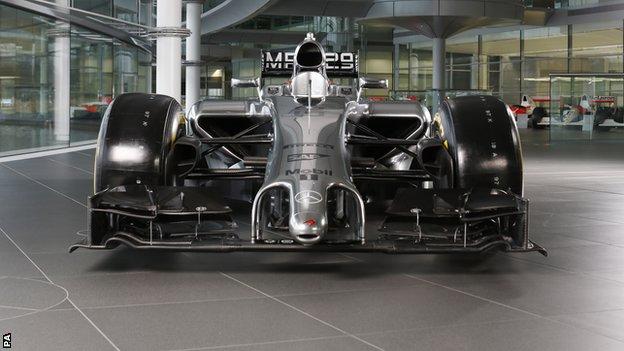 McLaren have become the first Formula 1 team to release pictures of their actual 2014 car.
Williams and Force India have already revealed computer-generated images of their new challengers but McLaren have officially launched the new MP4-29.
But the reveal was overshadowed by news they had poached Lotus team principal Eric Boullier.
McLaren have not announced Boullier's move but sources say he will join as team principal in the near future.
Martin Whitmarsh, who had filled that role since 2009, has not been at work since McLaren announced on 16 January that chairman Ron Dennis had been appointed to a second role of chief executive officer, replacing Whitmarsh, and had been charged with turning the team's fortunes around.
Although Whitmarsh has neither been performing his former role nor been at the factory since Dennis was made CEO, the two men have been discussing his future.
He is likely to be offered a new role elsewhere in the company, away from F1, but it is not known whether he will accept it. He may choose to walk away instead.
Dennis has been trying to remove Whitmarsh as team principal for almost the last two years and has settled on Boullier, who has run the Lotus team since it was bought from Renault by current owners Genii Capital, an investment group, at the end of 2009.
The official announcement of their new car on Friday was the fourth major news release from McLaren in two days that had no mention of Whitmarsh on it.
The new McLaren MP4-29 continues the trend for "anteater" noses in F1 this season.
The team have chosen a front-nose design that features arching support pillars down to the front wing, which rules dictate must be 15cm narrower this year than in 2013
The narrow front-nose section on the cars is a response to new rules that dictate a lower nose, and teams' desires to keep the front of the car as clean as possible to enable them to allow more air to flow under the car, increasing downforce.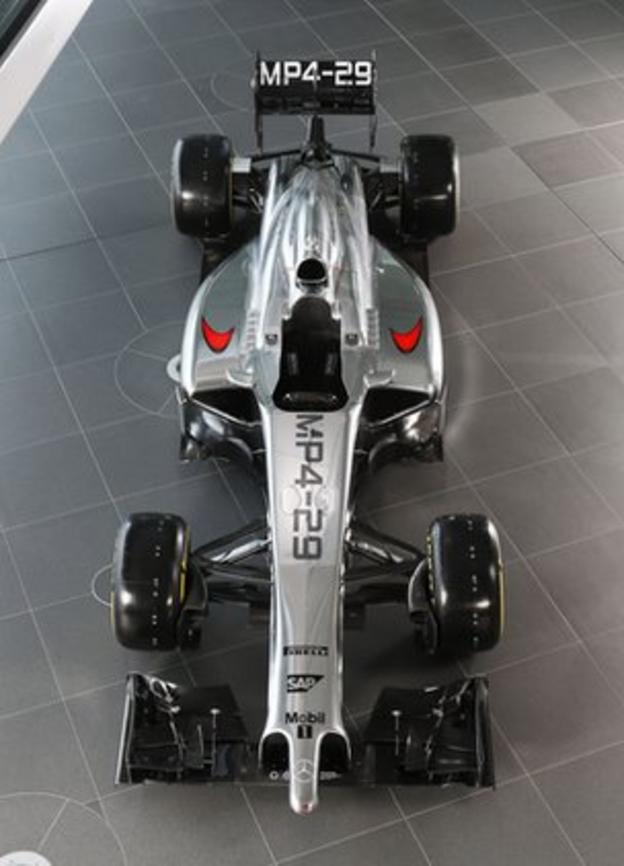 F1 has this year introduced the biggest rule changes in a generation, bringing back turbo engines for the first time since 1988, but this time with extensive energy-recovery systems, otherwise known as "hybrids".
A series of changes to the chassis rules have also affected the aerodynamics at various points on the car.
McLaren managing director Jonathan Neale said: "We've never had such significant new regulations before; reacting to them, and managing those changes, while still pushing the performance limits, has been an extremely tough job."
He said McLaren had focused on producing a "consistent" car which was the basis for extensive development throughout the season.
McLaren are under pressure to bounce back after a poor season in 2013, when they failed to score a podium finish for the first time since 1980.
Sporting director Sam Michael said: "We've made no secret of our disappointment at how the 2013 season turned out. The aim now is to get back to winning - that's what McLaren exists to do - but there's a certain amount of growth and regrowth that needs to take place before we return to a position where we can challenge for the world championship.
McLaren's race drivers this year will be 2009 world champion Jenson Button and Danish novice Kevin Magnussen.