Formula 1: Williams reveal new 'anteater' nose

By Andrew Benson
Chief F1 writer
Last updated on .From the section Formula 1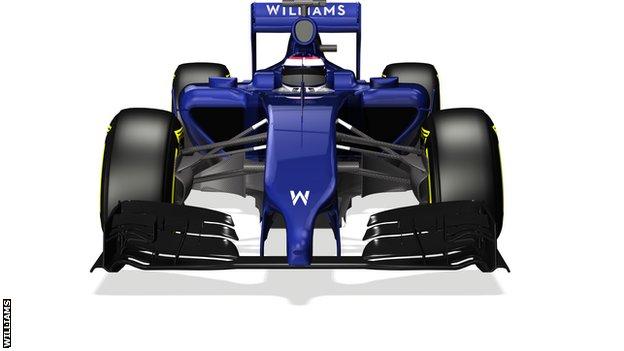 Williams have become the first team to reveal what is expected to be the standard 'anteater' nose on this year's Formula 1 cars.
The team issued drawings of their new Mercedes-powered FW36, that features a narrow section at the front of the car.
Most teams are expected to employ a similar design as they try to get the best performance from a new set of rules aimed at increasing safety.
Major changes include the introduction of 1.6-litre turbo-charged engines.
These feature a much more extensive use of energy recovery - or 'hybrid' - systems than on last year's 2.4-litre naturally aspirated V8s.
The sport has also introduced a fuel limit - teams can use no more than 100kg (about 130 litres) of fuel during a race - but cars will be at least a third more fuel efficient than last year.
This is an important year for Williams as they try to rebuild following the worst season in their history.
The team have undergone a major restructuring in the last few months, including employing a new design boss in chief technical officer Pat Symonds.
The 60-year-old won world titles at Benetton and Renault with Michael Schumacher and Fernando Alonso but was banned from F1 for five years following his involvement in the fixing of the 2008 Singapore Grand Prix.
Symonds has been involved in an overhaul of the engineering department at Williams, with a number of new faces joining the team.
Among these will be former Ferrari engineer Rob Smedley, who is expected to join as chief race engineer before the start of the season after seeing out his contract at Maranello.
Williams have set themselves the target of challenging for the title in 2016 - and Symonds believes they have made progress with this year's car.
"I'm confident that we'll be closer to the front aerodynamically than we were last year," he said.
"Our ambition for the year ahead is to have a strong 2014 season."