Sauber unveil design for new Formula 1 car with 'anteater' nose

By Andrew Benson
Chief F1 writer
Last updated on .From the section Formula 1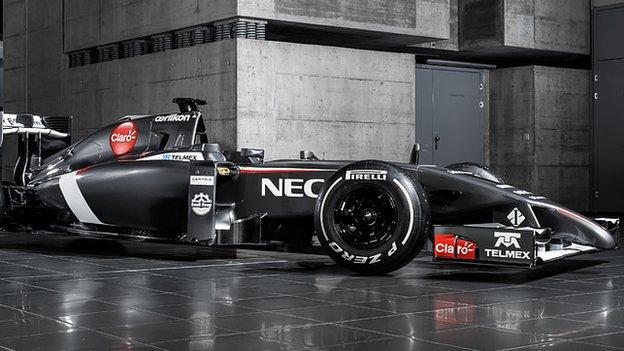 Sauber have released photographs of their new Formula 1 car, which features the 'anteater' nose seen on a number of other 2014 machines.
The Swiss team hope to build on a positive end to 2013, when Nico Hulkenberg scored strong results.
Now at Force India, he has been replaced by fellow German Adrian Sutil but Mexican Esteban Gutierrez stays on.
Chief designer Eric Gandelin said Sauber focused on a flexible design due to 2014's major rule changes.
Formula 1 has introduced the biggest technical changes for a decade. The naturally aspirated 2.4-litre V8 engines that have been used since 2006 have been replaced by 1.6-litre V6 turbos with much more extensive use of 'hybrid' energy recovery systems.
There have also been significant revisions to the chassis rules.
Gandelin said: "The radical changes to the technical regulations for 2014 mean that it's even harder than usual to make predictions for the new season.
"We know what kind of package we've put together here and we are happy with what we have achieved, but it is difficult to foresee what shape our rivals are in.
"The path we have followed with the design of the Sauber C33-Ferrari allows us maximum flexibility, so that we can react quickly.
"It is also clear that reliability will be an important factor in the first few races in particular.
"So this is an area which we have given very high priority."
Sauber started last season poorly, but after a major change to the car at mid-season finished strongly, with a fifth place for Hulkenberg in Italy and a fourth in Korea.
Team principal Monisha Kaltenborn said: "We have put a very challenging year behind us.
"The first half of 2013 in particular was difficult for us, but the second half saw us making significant strides. We learnt a great deal during this time and will be applying the lessons in the new season."
The car will run for the first time at this week's first pre-season test in Jerez in Spain, from 28-31 January.
Only Lotus are missing the Jerez test. They will instead run their car for the first time at the second test in Bahrain on 19-22 February.
The unusual nose designs are a consequence of teams trying to get as much airflow under the car as possible for the best aerodynamic performance while satisfying a requirement for a much lower nose.