Formula 1 2014: Pre-season testing set to begin in Jerez

By Andrew Benson
Chief F1 writer
Last updated on .From the section Formula 1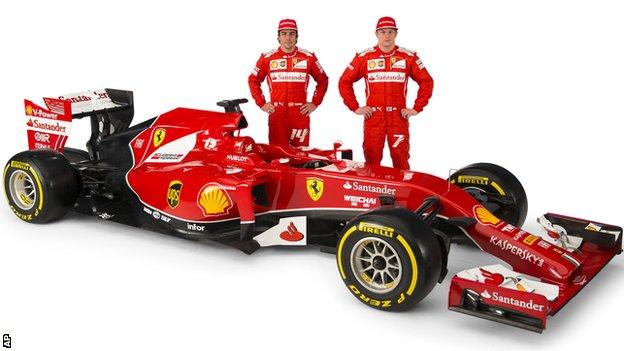 Formula 1 teams start their on-track preparations for the 2014 world championship on Tuesday, when the first pre-season test begins at Jerez.
All teams bar Lotus will run their new cars as they adapt to the biggest set of rule changes for a generation.
Turbo engines are being used for the first time since 1988 and there will be greater use of energy recovery - or hybrid - technology than ever before.
A number of new cars will also appear publicly for the first time.
World champions Red Bull and runners-up Mercedes - the two favourites ahead of the new season - will reveal their cars on Tuesday before starting testing, along with backmarkers Marussia and Caterham.
Ferrari, McLaren, Williams, Force India, Lotus, Sauber and Toro Rosso have already released images of their cars.
Lotus, who last week lost their team principal Eric Boullier to McLaren, are missing this test after failing to get their car ready in time. Their new car will appear at the second pre-season test in Bahrain from 19-22 February.
The four days of testing will be a journey of discovery for the 11 teams, who have to learn how to run cars that are very different from those that have been used in recent seasons.
As well as working with new engines, teams have had to get used to a series of changes to the chassis rules, too, which means cars look very different in 2014.
The tyres are different, too. With the new engines able to accelerate much more strongly than the 2.4-litre V8s, which have been used since 2006, Pirelli is also supplying harder tyres.
"In the dry, the cars will be a bit more tricky to drive, with less downforce and harder tyres," said Ferrari driver Kimi Raikkonen. "Dry or wet, we expect to be sliding around a bit more with the new cars."
The new chassis rules, which require lower noses for safety reasons along with a number of other aerodynamic changes, have led to unusual-looking cars, with unattractive nose sections.
But the biggest issue for teams is the reliability of the new engines, which feature two motor-generator units linked to a battery for energy recovery.
Ferrari technical director James Allison believes reliability will be "absolutely fundamental" in terms of deciding the championship, more important than aerodynamic or engine performance.
McLaren sporting director Sam Michael added that "the key" to the first quarter of the season could well be consistency.
"We won't find ourselves in a situation where the guy who wins the first race goes on to win the championship," he said. "It'll be unpredictable and exciting - and that's fantastic news for Formula 1's fans."