Toro Rosso unveil new car for 2014 Formula 1 season

By Andrew Benson
Chief F1 writer
Last updated on .From the section Formula 1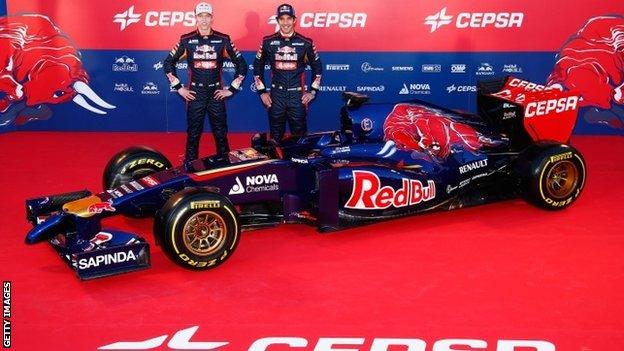 Toro Rosso have unveiled their 2014 Formula 1 car, on the eve of the first pre-season test at Jerez in Spain.
Red Bull's junior team have designed a conventional-looking car, with the exception of a narrow protuberance at the front of the nose.
That is a response to a new requirement for lower nose tips for safety, but teams' desire for the best airflow under the car for aerodynamic reasons.
Toro Rosso's drivers are France's Jean-Eric Vergne and Russian Daniil Kvyat.
Team boss Franz Tost wants an improvement on their eighth place in the constructors' championship last year.
"It's even harder than usual to make predictions," he said, "but what I can say is that we must do better than in 2013 and move up the order."
While F1 cars had grown to look increasingly similar to each other in recent years, the new rules have led to a number of different solutions to governing body the FIA's attempt to increase safety in 2014.
A complicated set of requirements define the chassis height at certain points, and the height and minimum dimensions of the nose tip.
Completing the biggest set of rule changes for a generation, F1 is moving to 1.6-litre V6 turbo engines with the most extensive use of energy recovery systems - or hybrid technology - ever.
Toro Rosso have switched from Ferrari power to Renault for 2014, bringing them into line with senior team Red Bull.
Only Red Bull and Mercedes are yet to release a single image of their cars, and both will unveil them at the start of the first day of testing in Jerez on Tuesday.
They will be joined by Force India and Williams, who so far have released only computer-generated images of their new cars.
Lotus have also released an image of their car but are missing the first test. Their new model will run for the first time in the second pre-season test in Bahrain next month.