Lewis Hamilton: Mercedes driver upbeat despite testing crash

By Andrew Benson
Chief F1 writer
Last updated on .From the section Formula 1
Former world champion Lewis Hamilton insisted it had been a "positive day" despite crashing his new Mercedes on day one of pre-season testing in Spain.
The accident was caused by a front-wing failure, according to his team, who had unveiled the car earlier in the day.
"It's unfortunate to end the day early when everyone has worked so hard," said the 29-year-old Englishman.
"But we'll make that track time back and it's better to have these things happen now than in Melbourne."
The new season gets under way in Australia on 16 March.
Hamilton managed 18 laps and ended the day second fastest behind Ferrari's Kimi Raikkonen.
The Finn set a best time of one minute 27.104 seconds, 0.716secs ahead of Hamilton.
Only four other drivers recorded timed laps as teams struggled with new cars of great complexity - Toro Rosso's Jean-Eric Vergne, Force India's Sergio Perez, Williams' Valtteri Bottas and Sauber's Esteban Gutierrez.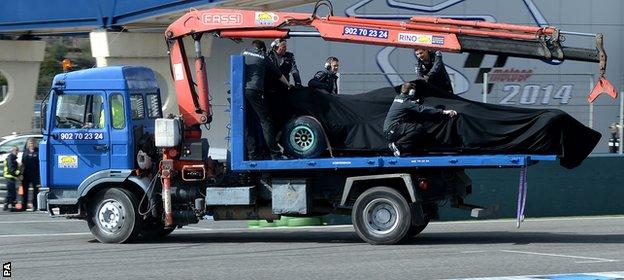 The lap times are all several seconds off a representative pace, as all the teams focused on reliability and fundamental checks. Performance work will not start until later in the test.
Hamilton, champion in 2008, added: "The car feels quite good, especially considering it's so early in our programme. Overall it's been a positive day."
Eye-witnesses in Jerez said they saw the front wing come off Hamilton's car before he lost control and hit the tyre barrier at the first corner.
The car's right front wheel and suspension were affected but otherwise the damage appeared relatively light.
"To conclude our day's running with a front-wing failure was an unfortunate end to what had, to that point, been a very positive start to our winter," said Mercedes technical executive director Paddy Lowe.
He added that analysis of the crash was ongoing and that German Nico Rosberg would be driving the new Mercedes F1 W05 on Wednesday.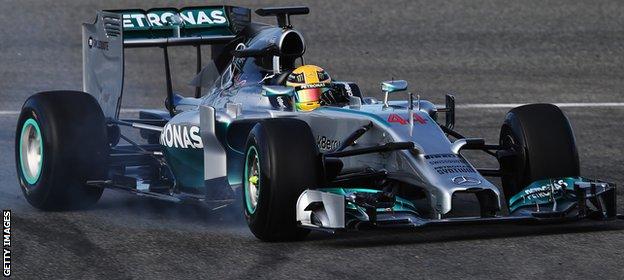 Ten of the 11 teams are at Jerez putting the first miles on new cars which incorporate major changes since last year.
Red Bull, Mercedes, Ferrari, Toro Rosso, Sauber, Williams, Force India and Caterham all completed at least some running.
Red Bull managed two laps, with reigning world champion Sebastian Vettel getting out with just five minutes to go.
McLaren were unable to get their car running while Marussia's is en route from their factory in Oxfordshire to southern Spain.
Lotus are skipping this test because their car is not ready.
New rules this year, which involve new turbo-charged engines and significant aerodynamic alterations, mark the biggest regulation change for a generation.
All of the teams are predicting reliability will be a major concern through testing and into the start of the season.