Eric Boullier appointed racing director at McLaren after Lotus exit

By Andrew Benson
Chief F1 writer
Last updated on .From the section Formula 1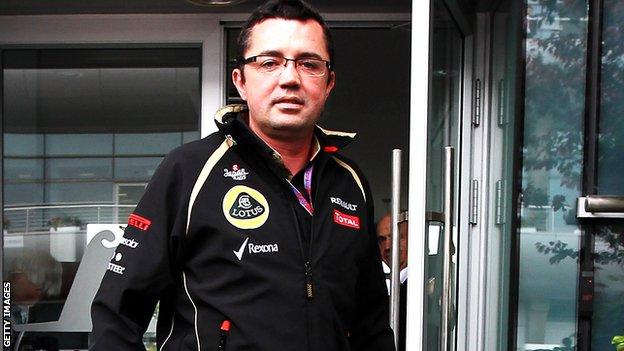 Former Lotus team principal Eric Boullier has been appointed the racing director of McLaren.
McLaren chairman Ron Dennis said the Frenchman's appointment was "an integral part of a senior management restructure within McLaren Racing".
No mention was made of ex-team principal Martin Whitmarsh, who has not been at work since Dennis regained control of the F1 team on 16 January.
Boullier, 40, said the role was "a privilege and a wonderful opportunity".
The Frenchman started work in F1 for Lotus in 2010, steering the team through a difficult four seasons during which cash flow was a constant problem.
Boullier will run the McLaren team at the race tracks, charged with making sure they return to winning races and contends for world championships. Last year they had their worst season since 1980, failing to score a single podium finish.
A McLaren statement described Boullier as "one of the most capable trackside leaders in F1".
McLaren driver Jenson Button said Boullier's "fresh ideas" would further revitalise the team.
"The team will never be changed by one individual, but he does add something," said the 2009 world champion.
"It's good to have fresh ideas. When the management structure is complete - and hand on heart I don't know who will be in the roles but I have an idea of the structure - then we will be in good shape.
"Lotus have had a very interesting and exciting last few years. Last year was a very difficult year for the team with what was going on in the background. But it did look like he controlled that reasonably well."
Despite the new appointment, the team have not yet decided who the new CEO of McLaren Racing will be.
Former Mercedes team principal Ross Brawn has already been linked to a senior role at McLaren - Dennis admitted to BBC Sport last month that he had discussed the future with him.
However, Brawn insisted last week in an interview with BBC Berkshire that he had not been "involved with any discussions with anyone", and was not planning to come back "at the moment".
Dennis, who stepped down as McLaren team principal ahead of the 2009 season, was given control of the F1 team again this month after successfully pulling off a boardroom coup.
Until then, Dennis had no role in the F1 operation, but had several times tried to remove Whitmarsh as team principal over the last two years.
It has been reported that Whitmarsh will be offered another role within the McLaren organisation. He is also one of four people who have been approached by Lotus to replace Boullier.
Dennis said in a statement on Wednesday: "I'm firmly of the belief that, once McLaren Racing's restructured senior management team has been assembled, together we'll begin the march back to full competitiveness."