Sebastian Vettel: World champion struggles in pre-season testing

By Andrew Benson
Chief F1 writer
Last updated on .From the section Formula 1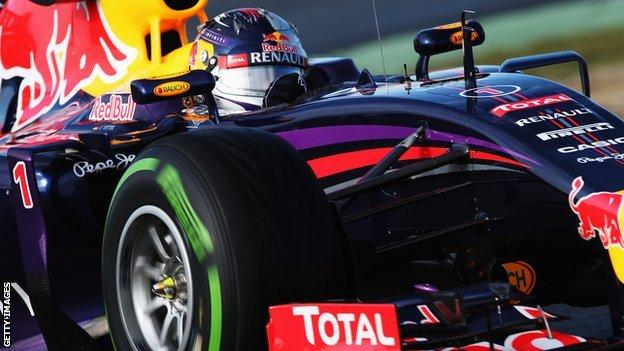 World champion Sebastian Vettel has had a torrid start to pre-season testing, completing just 11 laps over the first two days in his new Red Bull.
Vettel had managed just three slow laps on the first day after Red Bull encountered problems building the car.
Teams had warned that the complexity of the new engines would lead to problems.
Formula 1 is introducing the biggest set of rule changes in a generation, focusing on new 1.6-litre turbo engines with extensive 'hybrid' energy-recovery systems. There have also been significant changes to the chassis rules, leading to controversial nose designs.
All the teams have suffered much more limited running than had become usual in pre-season testing in previous years.
Vettel's 11 laps over two days compares unfavourably with the 174 he had done at the same stage last year.
He ended the day slowest overall, more than 14 seconds behind the pace-setting McLaren-Mercedes of Jenson Button, who set a best time of one minute 24.165secs.
"Obviously we've not had a lot of running and a few problems to sort out," said Vettel. "With such big rule changes it is usual to have teething problems, but that's what the tests are for, to sort them out.
"The next two days will be important to get some track time to prepare for the tests in Bahrain."
Vettel has now flown home to Switzerland, with new team-mate Daniel Ricciardo taking over for the final two days of the test.
All the Renault-engines teams suffered similar problems with their Ers systems that dramatically limited running. Caterham's Marcus Ericsson did just 11 laps and Toro Rosso none at all.
Renault engine chief Remi Taffin said the company could find a solution overnight ahead of the third day of testing.
On average, Mercedes-powered cars managed 51.7 laps on Wednesday, Ferrari-powered cars 47.5 laps and Renault just 6.3.
Ferrari's Kimi Raikkonen, who set the pace on the first day of the test, was second fastest, ahead of the Williams-Mercedes of Valtteri Bottas and the Mercedes of Nico Rosberg.