F1: Bernie Ecclestone wants double points for last three races

By Andrew Benson
Chief F1 writer
Last updated on .From the section Formula 1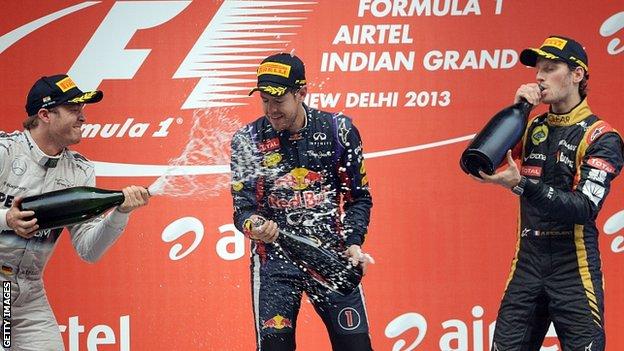 Formula 1 boss Bernie Ecclestone wants to extend his controversial double-points scheme to the last three races of the season.
Now Ecclestone has written to the teams saying he wants to extend it to the two preceding races, in the USA and Brazil.
He needs unanimous approval for his proposal to go ahead.
A number of teams have already expressed reservations about applying double points to the last race, never mind the final three.
Ferrari president Luca Di Montezemolo and Mercedes co-team boss Toto Wolff have both made it clear that F1 needs to think carefully before increasing the number of points on offer in Abu Dhabi.
Ecclestone wants to ensure the battle for the title lasts as long as possible - and thus maintain television audience figures - following Sebastian Vettel's recent dominance.
The Red Bull star has won two of the past three championships with at least three races remaining.
Di Montezemolo is said to have accepted double points will be awarded at the final race of this year's championship, but only on a trial basis.
Wolff agrees F1 needs to be open to ideas that prevent the title from being decided early but is not sure double points is the way to go.
"Ninety-nine per cent of the fans say it is the wrong move, so perhaps it is something we have to revisit," he said.
"Everything is possible. We had another meeting and decided to keep it for the moment. Discussions are ongoing."
Defending champion Vettel has called the plan "absurd", saying it penalises drivers who have done well over the entire season.
Mercedes driver and fellow German Nico Rosberg also rejected the idea.
"I'm sorry to say, but it's no good," he said, although he admitted fans might like the idea.
"If you get to the last race and, because of this new points system, it remains exciting, I'm sure all the spectators will be sitting in front of the TV and will be excited and happy about it.
"Now we're all sitting here saying it sucks, but maybe by the last race it keeps things exciting."
One team boss, who did not wish to be identified, said F1 chiefs had "completely misjudged the predictable negative response from the public", adding: "Let's hope it is overturned."
Red Bull team principal Christian Horner said the plan placed "too much emphasis on one race" and was the equivalent of a "lucky punch".
However, he said it had been approved because Ecclestone, whom he is close to, and the sport's governing body "are very much in favour of it".
He added: "For Bernie, he wants to keep the championship alive and the TV ratings high. I think it's too much emphasis on one race."
He hinted he would be in favour of extending double points to the last three races to "take away an element of lottery over that last race".
Ecclestone stepped down from the board of the company which runs F1 following his indictment on bribery charges in Germany earlier this month.
The 83-year-old continues to run the business on a day-to-day basis.