Formula 1: Marussia debut 2014 car at Jerez after delay
Last updated on .From the section Formula 1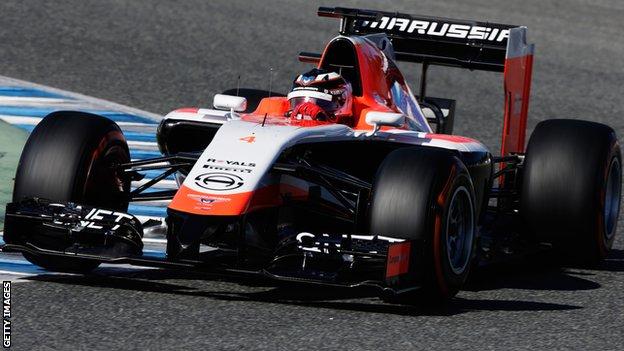 Marussia have unveiled their 2014 Formula 1 car at Jerez, after technical issues delayed the MR03's launch to day three of pre-season testing.
British driver Max Chilton took the new car out on Thursday afternoon, managing five laps.
The MR03 arrived in Spain on Wednesday afternoon after a last-minute problem delayed its departure from the team's Oxfordshire factory.
Marussia finished 10th in the 2013 constructors' championship.
"As we saw in the step from 2012 to 2013, we have young but experienced and extremely talented technical and engineering groups within the Marussia F1 Team, who have contributed enormously to our rate of progression over the past couple of years," team principal John Booth said.
"To have designed a car that is true to the concept first conceived in early 2012, despite the integration of an entirely new powertrain and whilst pushing hard to attain our 2013 constructors' championship objective, is a testament to the extent to which we have matured as a technical organisation."
Marussia have switched to Ferrari engines for 2014, having raced with Cosworth power since joining Formula 1 as Virgin in 2010.